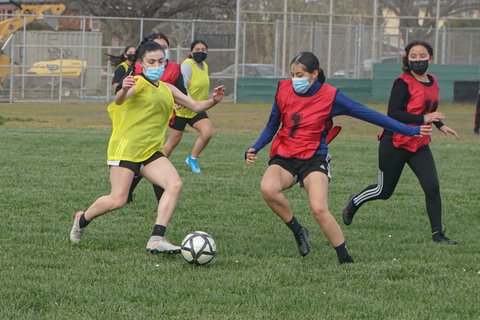 22 Mar

Richmond High Athletes Get Back in the Game as High School Sports Return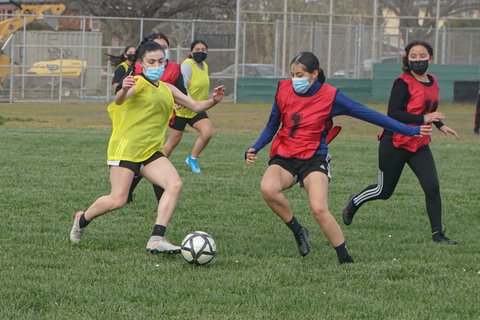 The start of a new season took Richmond High girls' soccer coaches by surprise. Forward Ariatna Fernandez, No. 1 in red at a recent practice, said she is worried games will end up canceled because of the coronavirus.
Story, video and photos by Denis Perez-Bravo
Practices and competition for high school athletes in Contra Costa County have resumed, sparking the passion many of these students have for their sports despite COVID-19.
"Sports play a huge aspect of my life right now," Richmond High School tennis player Jacque Aguayo,18, said.
Aguayo, a senior, has spent her high school years on the basketball team. She began playing tennis as a junior.
Although there is still worry of being exposed to the coronavirus, it will not keep her from competing. That is her nature.
>>>Read: Cut Short: Richmond High Senior Jose Martinez on His Final Season
Tennis, golf and cross-country were among the first high school sports allowed to resume in the county. Teams started practice in the last week of February.
Following many counties' move from the widespread tier to substantial or moderate, football, soccer and baseball practice were allowed beginning March 8 under the California Interscholastic Federation's Education-Based Athletics COVID-19 Modifications.
The Richmond High tennis team, which has around 12 players in a practice, divided itself on opposite sides of a tennis court for a rallying drill on the evening of March 15.
The players, including Aguayo, practiced their footwork and form as they served the ball over the net.
"You can't wing it," coach Jeffrey Jaymont said about their strokes.
Jaymont said Aguayo listens closely to his instruction, which is why she has progressed since last year.
"I am very competitive," Aguayo said.
Being pushed is part of the game that she missed. If her coach is not pushing her, then her teammates are, or she is motivating someone else.
Distance learning has replaced many of the normal interactions students have with their peers and teachers with virtual transactions.
"Both physically and mentally, it feels so good to be out here," said Aguayo.
She uses sports to deal with stress. Apart from that, being in a team allows her to bond with teammates.
>>>Read: School and Soccer Kept Me From Following My Brother to a Gang
As the pandemic began and people started isolating, Aguayo ran in the park to keep active. But running by herself in a park wasn't where her talents needed to be. Being on a court with her teammates doing "fun things" is how she wants to spend her last year in high school, she said.
Returning to the field with COVID-19 still around has its challenges, said assistant girls' soccer coach Damaris Franco Sanchez.
The decision to let soccer have a season now, along with many other contact sports, surprised Sanchez, 28, and head coach Felipe Franco.
"Practice was kind of rushed. I did not expect to play soccer this season," Sanchez said.
She was notified in the first days of March and had to pool together equipment. She tried to hold a traditional tryout but did not have enough time.
She was able to notify the girls in the school to come practice on short notice, though.
>>>Read: Cut Short: Kennedy High Senior ReyZarria McMillion on Her Final Season
Their first practice March 8 brought around 20 girls, many of whom were returning players.
They had to cut the session short because the bathrooms were closed.
Amenities like that are necessary to get the most out of practice. The school is working to find a safe solution, but it is hard to share a space with different groups in fear of spreading the virus, and protocols must be followed, Sanchez said.
Despite these challenges, forward Ariatna Fernandez, a junior, expects the team to try their best and win games.
The unexpected start, the change of the season's length, mask regulations and other COVID-19 related changes will take time to get used to, but she is excited.
Fernandez has played soccer since she was a freshman and did not want to take a year off.
"Although, everything is not for sure," she said.
>>>Read: Cut Short: El Cerrito High Senior Ally Chin on Her Final Season
In the back of her mind, she said, she is worried games will be canceled because someone might get sick or something else related to COVID-19. Instead of thinking about that, she plans to concentrate on practice and preparing for scheduled games.
"This year is about making it the best," she said.
Ferndandez's mentality is shared throughout the Richmond High athletic department.
For new head football coach George Jackson, this season is the start to a new era in the Richmond football program.
"The program has been down for many years," he said.
In recent history, Richmond High's football team has had a record of losing seasons, an inconsistent coaching staff and low recruiting numbers.
"Only time will tell if we are still the same team," Jackson said.
>>>Read: Cut Short: Kennedy High Senior Devon Gilbert on His Final Season
COVID-19 has made it hard to conduct consistent conditioning training and scrimmages in contact sports like football. Jackson has tried to keep in contact with his team and has held conditioning practices when possible since the beginning of the year.
Richmond football lost 40-0 to Salesian on Saturday in its first game of the season. It was their first test to prove to themselves they are making progress.
Ahead of the match, Jackson said the team would "fight the whole game."
But, he said Monday, "They were stronger than us."
Jaiden Fowler, with the ball during practice, transferred to Richmond High to play varsity football.
This year, Richmond football has successfully attracted players despite the pandemic. One of them is sophomore Jaiden Fowler.
Fowler transferred from Jesse Bethel High School in Vallejo to be able to play varsity football at Richmond. When he learned Bethel would not have a season, he thought about playing 7-on-7 football, but instead came to Richmond to continue his passion for the sport.
"I want to be looked at by colleges for real. Especially because I am smaller, I have to get game and workout film to be noticed," he said.
He is adjusting to Richmond's program. His athleticism despite his younger age is lifting the standard of the team.
During a March 8 practice, as Richmond's running backs struggled to complete a running play drill, Fowler successfully weaved through the defense on his first try during his first day.
Richmond tailback Nathan Lee Davis, a senior, appreciates the show of skill and effort as the team trains for their first game. Davis is another recruit. He transferred from a high school in Michigan after he moved to California with his girlfriend last year.
In addition to going to school and playing football, Nathan Lee Davis, with the ball, also works at UPS.
As a student-athlete, he also works at UPS during the graveyard shift. He would rather not work and dedicate his time to school and football, but "I need the money," he said.
Sports is an outlet for him like it is for many others, but he hopes it can also be his future, he said.
He hopes to take his competitive nature to the next level. He wants to play college football and in the NFL one day. For now, though, he is taking it day by day — going to work as one day ends and another begins, going to school in the mornings and practicing football in the afternoon.
"I only got five games. I want to take it somewhere this year," Davis said.