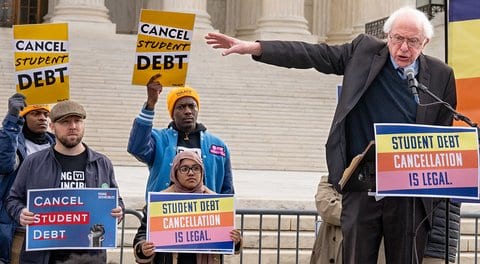 02 Jul

EdSource: U.S. Supreme Court Rejects Student Loan Forgiveness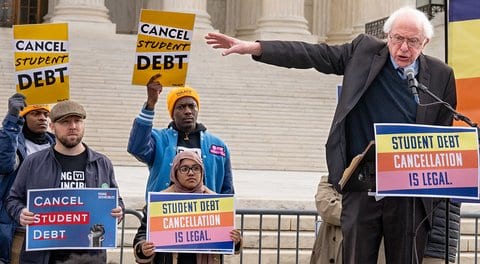 Sen. Bernie Sanders speaking outside the Supreme Court on Feb. 28 as student debt relief cases are heard. The Court ruled 6-3 against President Biden's debt relief plan. ("Cancel Student Debt" by Victoria Pickering via Flickr / CC BY-NC-ND 2.0 license)
By Carolyn Jones, EdSource via Bay City News
The U.S. Supreme Court on Friday struck down President Joe Biden's ambitious plan to erase $400 billion in student debt — affecting about 43 million borrowers nationwide including about 3.5 million in California.
The court ruled 6-3 that Biden lacked the authority to permanently waive up to $20,000 in debt for each person who borrowed money to attend college, and that a move of such magnitude should have gone through Congress. The court also ruled that the HEROES Act, a 20-year-old law that allows the secretary of education to waive student loans during a national emergency, does not apply.
"The question here is not whether something should be done; it is who has the authority to do it," Chief Justice John Roberts wrote in the court's majority opinion. He added: "Under the (Biden administration)'s reading of the HEROES Act, the Secretary (of Education) would enjoy virtually unlimited power to rewrite the Education Act."
In her dissenting opinion, Justice Elena Kagan wrote that the secretary of education did, in fact, have the right to waive loans.
"What the Secretary did fits comfortably within that (authority)," she said, adding that the court's majority ignored certain facts of the case in order to reach a partisan decision. "From the first page to the last, today's opinion departs from the demands of judicial restraint," she wrote. "At the behest of a party that has suffered no injury, the majority decides a contested public policy issue properly belonging to the politically accountable branches and the people they represent."
President Joe Biden on Friday laid out his plans to keep fighting for ways to help borrowers, including waiving default rules for the first year after payments resume this fall. Borrowers should still make payments, but they won't face collection agencies or negative credit reports if they miss a payment.
Biden also announced that he would again seek to waive student debt, this time through the Higher Education Act, which he said might take longer but is more legally sound. He also finalized an income-driven repayment plan, that could potentially cut some borrowers' payments in half.
"I believe the court's decision today was a mistake. It was wrong," Biden said. "I'm never going to stop fighting for this, using every tool available. … It's good for the economy, good for the country."
The court ruled along partisan lines on the case, which was based on lawsuits from six Republican-led states. A separate case, brought by two individuals, was unanimously dismissed.
Borrowers said they weren't surprised by the ruling from the conservative majority, but were nonetheless devastated by the consequences. The ruling means borrowers will have to repay their loans in full, resuming payments after the current COVID-related "pause" expires in August.
"We are disgusted by the overtly partisan Supreme Court ruling," said Natalia Abrams, president of the Student Debt Crisis Center. "This means that borrowers have to continue to fight. This is not over."
Matthew Coles, a law professor at UC Law San Francisco (formerly UC Hastings College of the Law), said the majority "seriously bent" the rules on whether the plaintiffs had standing to sue, in order to justify a ruling on the loan program itself.
"I think (the issue of standing) is a pretty big reach," he said. "The real issue here is the impact this will have on millions of low- and middle-income borrowers — teachers, social workers, people who work for nonprofits — for whom $10,000 to $20,000 is a big deal."
The idea of student debt relief actually began under a Republican administration, when President Donald Trump, invoking the HEROES Act, suspended student loan repayments as a way to help those who lost jobs or were otherwise affected by COVID. The move was part of a larger economic bailout of the U.S. economy, which fell sharply as businesses and schools closed nationwide.
Biden extended the "pause" in student loan repayments several times, but in August 2022 announced the government would go a step further and cancel $20,000 in debt for borrowers who were recipients of the Pell Grant given to low-income students and $10,000 for everyone else. To qualify, borrowers would have to earn less than $125,000 a year, or less than $250,000 for a married couple.
The loans could have funded either undergraduate or graduate degrees, or both.
The cancellation would have benefited 26 million borrowers nationwide who had applied for the debt relief. They owe a collective $400 billion. Persistent student debt, Biden argued, has prevented a generation of young people from achieving financial freedom, delaying their ability to buy a home, start a business or plan for retirement — sometimes for decades.
He cited the skyrocketing costs of college, which have almost tripled since 1980, and financial aid funding that has not kept up. Even students who attend public colleges and live at home often have no choice but to borrow money to earn their degree.
More than 26 million borrowers applied for Biden's loan relief program, but a court halted the plan in November, before it went into effect. The injunction stemmed from a lawsuit from Republican-led states claiming that Biden overstepped his authority and that the plan leaves at least one agency, the Missouri Higher Education Loan Authority, unable to make its payments to the state of Missouri. On Dec. 1, the Supreme Court agreed to hear the case.
The court's ruling will affect more than 3.5 million borrowers in California, who owe an average of $37,000. Even though California has some of the lowest-priced public colleges and lowest rate of students taking out loans, students still tend to borrow large sums of money because of the high cost of housing and living. Overall, California student loan debt totals $141 billion, representing more than 35% of the national total.
Student organizations expressed their disappointment w the ruling, saying it was a serious setback in the fight for college affordability.
"We believe that this decision overlooks the crippling impact of student debt on millions of graduates and the wider implications it has on the socioeconomic fabric of our society," said Dominic Quan Treseler, president of the California State Student Association. "This decision does not mark the end of our efforts; rather, it fuels our determination to push for systemic changes that will lead to a more equitable education system."
College leaders also said they were unhappy with the court's decision.
California State University interim Chancellor Jolene Koester said, "We sympathize with the many college graduates across the country who are pained by the decision reached by the Supreme Court today. We affirm our longstanding commitment to providing an accessible, affordable, high-quality education. Additionally, the CSU will continue to advocate for effective federal measures such as doubling the Pell Grant, which would mean fewer students taking on debt and graduates entering the workforce on solid financial footing."
Kristin McGuire is among those who'll be impacted by Friday's ruling. Growing up in a low-income household, she borrowed $22,000 to attend her local public university, CSU Dominguez Hills. She covered the remainder of her college costs by working 30 hours a week throughout her education.
Now, almost 20 years later, her loan has ballooned to more than $50,000, in part because the minimum payments didn't cover the interest. Her husband is in a similar situation, and now they worry they'll have to take out even more loans to pay for their teenage daughter to attend college.
"We're not alone," said McGuire, who's now the executive director of the youth political advocacy group Young Invincibles and serves on the school board for Charter Oak Unified School District in Covina. "There are millions of people in the same position, choosing between basic needs and getting out from under toxic loans."
The ordeal has been costly and frustrating, she said. But her organization is already looking to the next steps: fighting for more subsidized student housing, more financial aid, more transparency regarding loan terms and repayment options, and better communication from the government and loan servicers about the true costs of student loans.
The stakes are high, not just for borrowers and their families but for the economy in general. Hampering a generation of young people with paralyzing debt will harm the country as a whole, slowing growth and discouraging people from seeking higher education, advocates say. A larger share of the borrowers are Black and Latino, further widening the wealth gap. According to the California Department of Financial Protection and Innovation, 90% of Black and 72% of Latino students in California take out student loans, compared to 66% of white students.
"If we care about the next generation, and we want to uphold our economy, we can't allow student debt to hold people back," McGuire said. "If we do this, we can help close the racial wealth gap and boost the middle class, and help millions of people bounce back from the pandemic."
McGuire said she was disappointed and angry about the court's decision, but not disheartened.
"The president has a lot more tools in his toolkit, and this is not over," she said. "This is just a bump in the road."