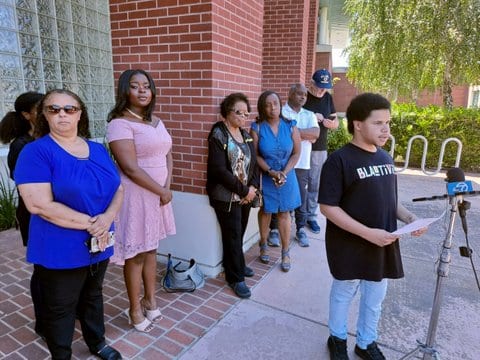 23 Jul

East County NAACP Praises Retiring Antioch Police Chief Ford, Calls for Community Input in Naming His Successor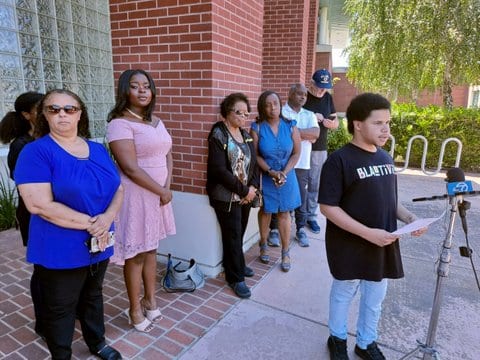 Gavin Payton, president of the East County NAACP Youth Council, calls for a healthy relationship between the Antioch community and its embattled police department at a press conference Thursday at Antioch police headquarters. (Katy St. Clair/ Bay City News)
By Katy St. Clair and Tony Hicks
Bay City News
Members of the East County NAACP held a press conference Thursday in front of the embattled Antioch Police Department headquarters heaping praise on Chief Steven Ford, who announced his retirement Wednesday evening.
The group also called for robust community involvement in choosing the city's next interim and permanent police chief.
NAACP chapter president Odessa Lefrancois said that Ford's tenure "will not go unnoticed" and that he put systems in place to "support and feel the community."
"Thank you, chief, for setting a task that was unseen by many," said Lefrancois at the press conference. "Your ability to work with people who are ready to undermine your leadership before starting is amazing."
At least 45 officers of the department's approximately 100 officers — including 16 in management positions — have been implicated in a racist and homophobic texting scandal that included threats against Antioch Mayor Lamar Thorpe, who is Black, and other African Americans and people of color.
Officers involved in the scandal referred to Ford, who is Black, as a "gorilla" in one text, according to the Contra Costa County District Attorney's Office.
'Fire Everyone Who Is Racist': Black Antioch Residents, Mayor React to Police Texting Scandal
Lefrancois said Ford worked for months to facilitate difficult conversations, which he never ran away from. She also praised his outreach to the entire community.
"He was at the barber shop, the beauty shop, he was at the bank, he was at the car wash, he was everywhere, letting them know that you have a police department that really cares about you," she said.
Kimberly Payton, vice president of the East County NAACP, said that their organization was "very sad" that Ford chose to retire and that he worked tirelessly with them.
"While we are sorry that the chief is leaving, the healing and this community needs help to move forward. That includes getting the city leadership, the governance of city officials, City Council, the mayor's office on board to continue his efforts of reaching out and making things right. Nobody likes to be called gorillas or anything like that. It is this city's leadership's job to bring the community together and show transparency and community building."
In a letter Wednesday evening addressed "To the Antioch Community," Ford said he was grateful for the opportunity and has worked with "some very talented and passionate people — it has been a great privilege to learn and grow from them."
"I am proud of what we have accomplished and firmly believe the groundwork has been laid for organizational success," Ford wrote. "I know our work to align us with the tenants of Procedural Justice and Constitutional Policing will keep this Department headed in the right direction. I sincerely hope our engagement with the Community will continue and flourish."
Ford was hired with a promise to reform a department already under investigation. But the news kept getting worse during his leadership. The city is scrambling to get fresh recruits through the police academy and is relying on overtime to staff the many vacancies.
Ford's tenure has been marred by his department being investigated by the FBI and the Contra Costa County District Attorney's Office for the past year-and-a-half for civil rights violations stemming from the text messages. The scandal has been big enough for many to call for a federal takeover of the department.
The California Attorney General's Office announced its own civil rights investigation earlier this year, and at least two members of Congress have urged U.S. Attorney General Merrick Garland to launch a Justice Department probe.
"Ford had an insurmountable task," said NAACP education committee member Mike Dupray. "Our police departments have deep roots in racist slavery and the racist and misogynistic culture in our police departments persist to this day. It must be rooted out and changed either on its own or by force, and on its own ain't working."
Asked if Ford was taking the fall for a fractured department and perhaps letting others off the hook, Lefrancois said she disagreed.
"Sometimes people come into a situation or into a place just for a short period of time to accomplish something," she said. "And that might have been the reason that he was drawn to here. Maybe not to stay, but to facilitate a healing.
Payton added that the community has been very clear that they want to have a large say in who succeeds Ford.
"They want to have a voice, to have a say in who's picked and who comes next," she said. "Somebody has to begin cleaning up this mess. And that community that wants to heal should certainly have a voice in that to pick up where Chief Ford left off."
Copyright © 2023 Bay City News, Inc. All rights reserved. Republication, rebroadcast or redistribution without the express written consent of Bay City News, Inc. is prohibited. Bay City News is a 24/7 news service covering the greater Bay Area.