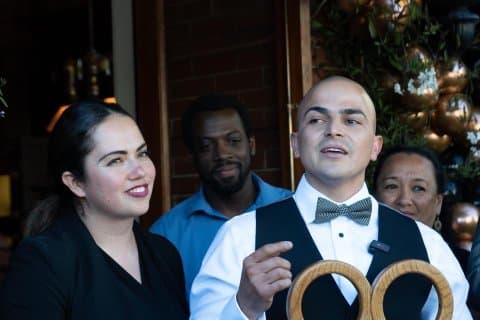 01 Aug

The Mac Is Back in Point Richmond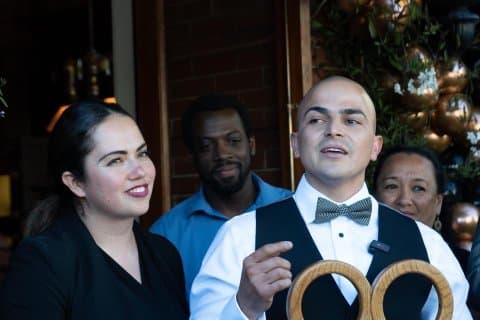 Married couple Blanca Zepeda and Juvenal Magaña are the owners of two Richmond restaurants: Mi Casa Grill and Biancoverde. Here, they celebrate the latter's opening at Hotel Mac on July 13.
Story by Malcolm Marshall | Photos by Tony Tamayo
Date nights over dinner and wine. Business deals between local movers and shakers. Holiday celebrations and business events. Happy hour drinks with friends listening to jazz standards on the in-house piano.
For years, it's all gone down in historic Point Richmond at the beloved Hotel Mac restaurant. But when "the Mac," as regulars often called it, closed down during the COVID-19 pandemic, the space sat dormant and a social void was left in the Point. Now, thanks to a local husband and wife team, the Mac is back with a new name, a new look and a new life.
Juvenal Magaña and Blanca Zepeda opened Biancoverde at Hotel Mac in July, bringing classic Italian fare and an elegant dining experience to the Richmond food scene. They are products of Richmond, having emigrated from Mexico, and went to Richmond schools, including Richmond High.
You might know them from their other eatery in town, Mi Casa Grill on San Pablo Avenue, which opened in 2022. The parents of three young children weren't satisfied with running just one restaurant. Their love of food and community is what's pushing them to do even more.
>>>Read: Richmond Couple Opens Mi Casa Grill to Serve Community Homestyle Cooking
"When you feel that this is your passion you want to do it a lot," Magaña told Richmond Pulse. "Everything that you have inside, you want to share with everybody. You just want to give everything to everybody."
Zepeda, his wife of five years, said the couple was contacted about reviving the long-time local favorite restaurant, and things aligned from there.
With the help of chef Fabio Bucio, previously the executive chef of Berkeley's Italy on Gilman, and their staff, they are retelling the story of this anchor of the Point Richmond business district.
At the ribbon-cutting ceremony put on July 13 by the Richmond Chamber of Commerce, there was plenty of excitement and enthusiasm in the air.
Good food can even bring political rivals together. Richmond Mayor Eduardo Martinez and Daniel Butt, the son of his predecessor, spoke together glowingly about Biancoverde and its owners at the opening celebration.
"They raised the bar of Richmond cuisine," said Martinez.
"This iteration of the Hotel Mac is exciting," said Butt, president of the Point Richmond Business Association. "I think it's going to outdo all the last iterations. I think we're on the up and up."
Magaña addressed the crowd at the ribbon cutting as well.
"It just feels amazing to be here," he said. "We promise the whole community that we're going to be, every single day, doing the best for you guys."
Richmond Mayor Eduardo Martinez, from left, City Council member Cesar Zepeda, owners Blanca Zepeda and Juvenal Magaña and, at right in suit, Daniel Butt were among those at the ribbon-cutting July 13 for Biancoverde.
Magaña and Zepeda's journey as entrepreneurs has grown from their humble beginnings. The couple says they were shaped by a Christmas where they didn't have any food on their table.
"Since that day, the only thing we just say is that anything can be short in your house except food," Magaña said.
Together, they began experimenting in the kitchen and grew their passion for food and for cooking.
"Food is very big for us," Zepeda said. "It feeds the body, but it's also food for the soul. We're here just continuing what we have been carrying within us."
Their love for each other and of food is a match made in heaven.
When they first walked into the empty restaurant, Magaña says he felt like he met a grandfather in need of some TLC.
"I see they left grandpa behind," he said. "The first thing that I say to Blanca is, 'He needs our help.'"
They immediately began renovating: painting, installing new flooring, re-staining the bar and redoing the wine cellar to make more space in the downstairs area.
First built in 1911 by an Irish immigrant named Kate Riordan, Hotel Mac was originally called the Colonial Hotel. In the 1930s, M.V. McAfee bought it and changed the name to Hotel Mac. Before that, McAfee managed the Waldorf Astoria Hotel in New York City and the Claremont Hotel in Berkeley, according to Contra Costa Marketplace magazine. Long after its beginnings with Riordan, the hotel came to be owned by another female immigrant, Lara Choe from South Korea.
Along the way, Hotel Mac was nearly destroyed by a fire in 1971. Everything burned away except three brick walls. It was rebuilt over 1976-78.
Magaña and Zepeda said they wanted to try to bring it back to what they heard it was like when it was reconstructed in the '70s.
"We really tried to preserve the bones, the historic aspects of it," Zepeda said. "So the ceiling is all the same. We just painted over it. We repainted the ceiling, the walls, changed out the carpet."
They also added a standing bar with plants, which is meant to bring in more life and also serves as a physical divider, giving more privacy for people sitting at the bar.
Take a look inside Biancoverde. The plants are meant to enliven the space and give customers at the bar some privacy.
"It was really about building a space for community that was warm and what the Mac represents," said Zepeda. "It's such a historical building. It's beautiful and very charming. We really wanted to pay homage to what it is and what it stands for in this special place that holds on people's hearts."
The weekly rotating menu is seasonal and subject to change. Recent offerings have included appetizers such as a tomato bruschetta and a beef meatball dish; pasta dishes such as two types of lasagna, linguine pescatore and fettuccine Alfredo; entrées like veal marsala and grilled salmon; and desserts like tiramisu and panna cotta. Biancoverde will offer special cocktails weekly and feature different wines.
IF YOU GO: Biancoverde is located at the Hotel Mac at 50 Washington Ave. in Point Richmond and is open every day except Wednesday from 11 a.m. to 10 p.m. Its phone number is (510) 374-6511.