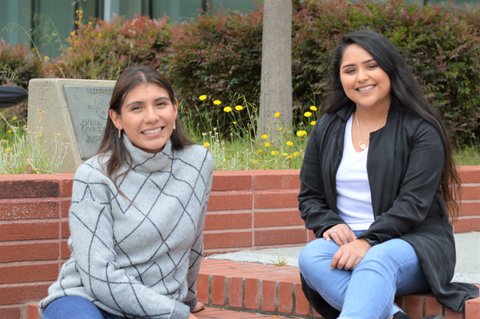 17 Aug

Richmond Promise Provides Relief for Scholars, Prepares for Fall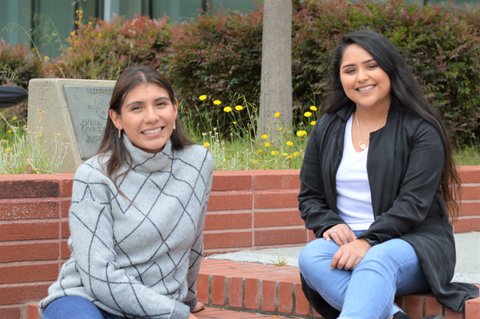 Richmond Promise provides scholarships to students such as Jazmelina Ledesma, left, and Cynthia Ramirez-Parra. (Courtesy of Richmond Promise)
By Edward Booth
When campuses shut down in March as COVID-19 cases surged, students' lives were thrown into disarray. Education continued at a distance, but many felt the blow of heightened economic instability as they lost jobs and grappled with food insecurity while adapting to online learning.
In response, the Richmond Promise launched a coronavirus relief fund.
The city program provides scholarships for college-bound high school students from Richmond. As college campuses were closing, the program raised roughly $85,000.
The program largely serves first-generation, low-income students of color. Even in normal times, these students typically balance schoolwork with responsibilities such as working to support their families, said Jessica Rodriguez, Richmond Promise associate director of scholarships and data.
As schools closed, Rodriguez and Americorps VISTA College Success Coordinator Briana Quarles created a survey to see what challenges the students were facing. They found students needed assistance with food and groceries, plane tickets home, laptops and reliable internet connections for distance learning.
"It became clear that we needed to act quickly," Rodriguez said.
Quarles and Rodriguez tried to get needed items out to students within 48 hours of each request. An advisory board of scholarship recipients suggested scaled funding for groceries based on how many people are in the student's household. They also partnered with the Family Independence Initiative to give one-time $500 cash stipends to students who demonstrated a loss of income because of the pandemic.
Jesse Hernandez Jr., a 2018 Richmond High School graduate who has served twice as an Americorps Summer Associate for Richmond Promise, was among the scholars who received aid. A junior at Lewis and Clark College in Portland, Ore., Hernandez returned home to live with his grandmother in March. He hopes to eventually be a history teacher at his former high school.
Hernandez said he felt disoriented when he was forced to shift to distance learning. He used his circumstances growing up as motivation to go to college, he said. Going back home to San Pablo was hard. He watched on social media as his affluent college friends were hanging out on boats. College was the first time Hernandez had ever slept on a full bed, he said. Now, he was back to sleeping on a mattress in his grandmother's mobile home.
"I think for a lot of Richmond Promise scholars, their homes are not the most scholarly place to be," Hernandez said. "Moving home kind of hurt because I knew I was going to mess up a bit, and I did."
>>>Read: Distance Learning Raises Questions About Mental Health
Jessie Stewart, director of Richmond Promise, told the West Contra Costa school board in May that 92% of the more than 400 students who applied for relief implied someone in their household had lost a job, or were working limited hours, because of the pandemic. Stewart said economic instability in the students' lives causes a ripple effect on their ability to stay enrolled. This instability and other aspects of the pandemic have revealed stark inequalities in higher education, she said.
"The pandemic is just daylighting existing inequalities that we know exist such as the digital divide, the precarious expensive college, and the fact that, especially for our college students going home, learning remotely doesn't mean the same thing for all our students," Stewart said.
These existing barriers and inequities are what Richmond Promise attempts to target. Launched in January 2016 and initially funded by the Chevron Refinery Modernization Project Environmental and Community Investment, the Promise has grown to provide scholarships to about 1,300 students this upcoming school year, up from about 300 in 2016. The scholarship provides recipients $1,500 a year, renewable for up to four years, according to the organization's website. Students eligible for the scholarship are Richmond residents who have attended an eligible high school from grades 9-12.
"The Richmond Promise aims to ensure all students in Richmond excel to and through higher education, reach their career goals, and become change-making leaders in the Richmond community," the website says.
One of the organization's goals is to encourage high school graduates to attend college in the fall. Many students are taking breaks and stopping school for a number of reasons, Rodriguez said. Those reasons can include family job losses or because they find distance learning unpalatable. She added that research indicates when college students take these gaps, they're likely to have trouble returning.
>>>Read: High School Seniors On Their Futures: "The Doubt is Overwhelming"
"When they're ready, whether that's spring or maybe next fall or next summer, we're ready to help them ease back into school," Rodriguez said.
Over the summer, Richmond Promise held online workshops and office hours to help prospective college students navigate higher education's bureaucracy. A July 30 webinar featured representatives from UC Berkeley, UC Santa Cruz, San Francisco State and Contra Costa College who explained how their schools would operate this fall and how to navigate financial aid.
Students were able to ask questions about the need for physical textbooks, whether lab classes would be conducted in person and how student housing would be handled, among other concerns.
Miguel Molina, college access coordinator for the program, said a July survey conducted by the California Student Aid Commission indicated that over 80% of college students have either changed some aspect of their college plans or aren't sure what they'll do when classes resume. Molina also said the survey found that 73% of students are concerned about their financial situation and 82% are concerned about taking classes online.
"This has been kind of like building a curriculum as you go for many institutions," Molina said. "Working for the Richmond Promise, I feel concerned about how things may look, but that's why we decided to hit up these different schools, these different professionals, and offer a webinar."
The impacts of COVID-19 remain a pressing concern for students. Distance learning may lessen the risk of infection, but internet and technology access inequities have become more of a problem.
Quarles said requests for laptops poured in early on. The program provided over 100 laptops to students, even as Amazon and Best Buy ran out of stock. She's sure the need for laptops will jump again as school starts up.
The Richmond Promise launched a Bridging the Digital Divide Campaign in July and is attempting to raise $200,000 to buy 500 laptops for students. One in three of the program's scholars go to college without a laptop.
For Hernandez, distance learning in the spring was tough. Though it may have technically been easier than in-person work, his motivation lagged, he said. He was home — not around his college friends anymore — and had to read hundreds of pages to prepare for every class.
"I wouldn't have made it through freshman and sophomore year without my friends," Hernandez said. "To me, college is 40% academics and 60% friendships and connections you make. Because that's what life's about."
He said it's going to be "a little rough" for incoming freshmen but recommends they push through.
"It's honestly going to suck. But hey, that's the circumstances we're in right now. I think students have to be strong mentally to get past these online times."