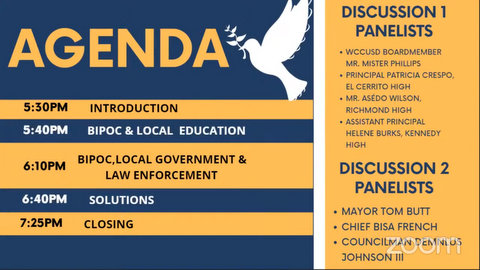 23 Nov

Youth Council Town Hall Talks Policing in Schools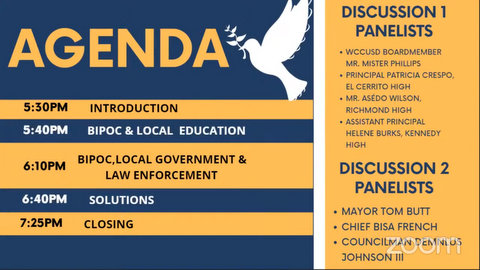 (Screenshot captured by Edward Booth / Richmond Pulse)
By Edward Booth
The Richmond Youth Council held a virtual town hall meeting Friday, bringing together representatives from the Richmond City Council, the city's police department and the West Contra Costa Unified School District to discuss the intersection of race, policing and public education.
The first discussion of the event focused on race and education: panelists were asked by members of the youth council what the importance of building an anti-racist curriculum is, what steps they've taken to promote diversity within the curriculum, and why Black and Latino students are performing worse than other district students, among other questions.
The panelists were also asked to describe the current state of the district in three words. Asédo Wilson, a teacher at Richmond High school, answered: "time to work." Helene Burks, assistant principal of Kennedy High, said: "urgently failing forward." And El Cerrito High School Principal Patricia Crespo said: "at a crossroads."
Board member Mister Phillips said the first word that came to his mind was "underperforming." He added: "but can do better."
Phillips said he's hopeful because of the new school board — which will probably include him and no other incumbents, according to Contra Costa County's unofficial election results — and because the district is currently searching for a new superintendent.
"Crespo is right: We're at a crossroads," Phillips said. "But I'm very hopeful about the future of this district."
When asked about the importance of an anti-racist curriculum, Phillips said it would allow students of color to feel safe and supported and therefore give them space to learn. Burks said it's important to recognize that the current curriculum is racist and doesn't start at neutral. She said overhauling the curriculum is vital because schools have a profound influence on how students see themselves.
"They spend a tremendous amount of time with us, and so I think that formation of identity and how they see themselves is crucial," Burks said. "It's part of why I think having educators of color is so crucial."
The second panel included Richmond Mayor Tom Butt, City Council member Demnlus Johnson and Police Chief Bisa French. Members of the youth council asked the city representatives questions about the racial makeup of the future of policing in Richmond, youth employment, and the part youth have to play in city politics.
French said the future of policing in Richmond will have much to do with community involvement and partnerships to solve and prevent crimes in Richmond. Johnson said Richmond "is going to lead the nation in policing once again," and that the police department will serve as a model for the country and, possibly, the world.
Butt recommended young people interested in law enforcement become involved in the Police Explorer Program. He suggested youth interested in how the city works get in contact with the mayor's office to get involved with city boards and commissions.
>>>Read: Explorers Program Gives Youth a New Look at Law Enforcement
Much of the later discussion, prompted by viewer questions, revolved around the district's removal of School Resource Officers by a unanimous school board vote in June, which was made in response to the killings of Ahmaud Arbery, Breonna Taylor and George Floyd. The district has yet to move forward on a safety plan that would replace the SROs.
Phillips said the district is going to need a robust safety plan in place before students head back to campus. He said that, if the safety plan isn't in place in time, SROs could even be brought back, and suggested that board members who represent each of the five election areas of the district should be able to decide their level of involvement with the police.
"All of those communities are different, and they all have different needs; they all have different wants," Phillips said. "It's not one size fits all."
Butt asked the members of the youth council to elaborate on their experience with and opinion on policing in schools. The answers varied, but most members of the council who answered said they hadn't personally had problems with the police in their schools.
Ashlee Davis, a member of the youth council and a student at Mills College, said her niece in the district, who suffers from anxiety, told her she's been uncomfortable around police officers on campus. Davis said when she was a student at Berkeley High School, SROs made a lot of students highly uncomfortable.
"There's different ways we can address safety without having an armed police officer on campus," Davis said.
Two other members of the youth council, Jocelyn Khansouvong and Kashaf Iqbal, both students at El Cerrito High School, said they'd never personally had issues with police officers. Even so, they knew of people who'd had different experiences.
"When we're establishing a plan, we have to keep in mind the perspective of every single student, Khansouvong said. "I think that's pretty crucial."
After hearing the members of the youth council speak, Phillips said he'd bet a sandwich — "I don't have enough money to bet any more than a sandwich," — that the majority of the district's roughly 29,000 students would say they'd had bad experiences with school police. He said police officers are a mixed bag, and one thing that could help improve the district's former SRO model is greater accountability to the district.