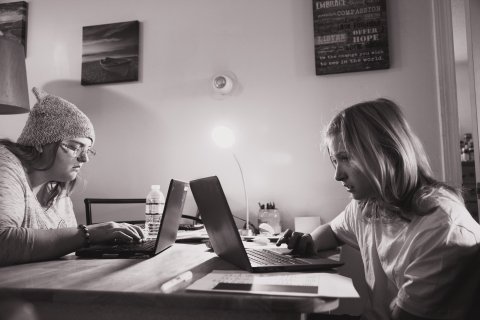 17 Feb

Family and Their Futures Inspire Students to Continue On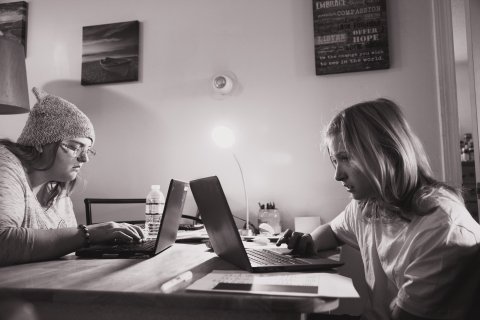 (Photo by Sharon McCutcheon on Unsplash)
By Juan Mendoza
With yet another semester underway since the COVID-19 pandemic pushed school online, challenges keep piling up for students.
Taking classes during a pandemic has proven to be especially difficult and stressful. Without the goal-oriented vibe of being surrounded by other students, class time isn't as engaging as it used to be. Isolated and without enough resources, many students struggle to understand and retain the material. Some say all this screen time takes a lot out of them.
"It was just super stressful being on Zoom and then having homework," said Alishba Sadar, a student at UC Berkeley. "Just being in front of the laptop, I just felt so drained with no energy."
>>>Read: My Kids and I Are All Distance Learning. Something Needs to Change
It's up to the students to get all of their assignments done on time while taking care of their everyday responsibilities.
"Taking classes at home has been very burdensome, especially since I have younger siblings that sometimes take up some of time when I need to be doing homework," said Ariana Diaz, who attends Contra Costa College. "Being at home makes me feel that I have more responsibilities compared to when it was only school."
Diaz added that she can't focus as well at home as she does in the classroom.
While the pandemic hangs over students' heads, it is just one factor on the list of stressful elements that affect them on an everyday basis. Money, due dates, and family all play a role in the overall stress and anxiety students feel today.
As a student myself, I struggle with financial anxieties. I often ask myself, "Will I have enough to pay for these textbooks? Will I have enough to help my family with our bills? Will I have money for the next month?"
Fortunately, financial aid is helpful for many students.
"Luckily for me, FAFSA pays for my classes," said Contra Costa student Hugo Nevarez, referring to the Free Application for Federal Student Aid, which determines eligibility for grants and loans from the government. "The only thing I need to pay [for] are books, and I always try to find the cheapest way to get them."
With classes online, students find themselves struggling to get their work done more than ever.
"It's very challenging, trying to find a time to study and do your work when you basically have all day to do it," said Diaz. "I just feel like I procrastinate more."
>>>Read: How My Sonoma State Classmates and I Are Handling Online Learning
But with all these struggles and worries, there's always a brighter side to look forward to: studying subjects they're interested in.
Sadar said she is especially excited about a course she'll be taking called The Role of Race in Urban Schools.
"I'm able to put my experiences in it, learn more about my community and learn more about changing the education system and making education more accessible to the communities that we come from," she said. "I just want to see people who come from the same background as me, or similar backgrounds as me, in spaces that we weren't allowed in or aren't allowed in, occupying these spaces, making our voices heard, having housing, parks, schools, books, and libraries in our communities."
Feeling invested in their classes can help students avoid and deal with stress, and so can finding time to relax and outlets to let out their anxieties, whether it be venting or more creative means of expression.
"I like to talk to people or have people listen to me," Nevarez said.
"I'm in love with the art I make," Sadar said.
Whatever they are, it's important for students to have motivations to guide them through the stress and anxiety of taking classes during a pandemic.
Sadar is driven by her community and the people who will come after her.
"I need to step up and open more doors for them and create a path for myself and my community," Sadar said. "There are so many things that need to be changed. There needs to be justice and reform, which also helps me to keep going."
School and everyday life responsibilities form an avalanche of overwhelming stress and anxiety for many students. But these challenges build stronger people. As students persevere through their classes, they will keep working toward their goals for the futures of their communities, families and themselves.
Family and future motivate Nevarez. "I want to have a great job, so I can give my future family a better life than I had," he said.
His parents keep him moving forward as well. "Seeing how much they sacrifice, I just want to make them proud," Nevarez said.