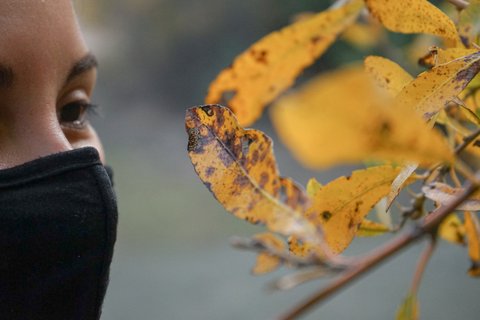 16 Apr

Community Hike Planned at Alvarado to Support Victims of Domestic Violence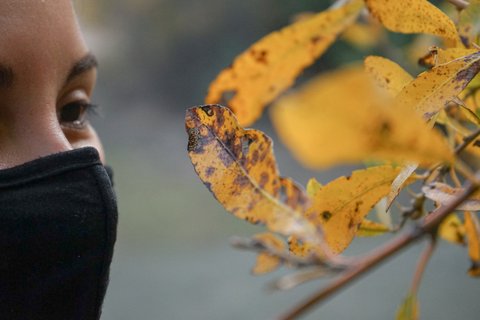 San Pablo resident Nicolette Mendoza at Briones Regional Park in December 2020.
Story and photos by Denis Perez-Bravo
To empower women, family support organization Generations Vision For The Future, will host a community hike at Alvarado Park's Wildcat Creek Trail on Sunday at 1 p.m.
The hike is meant to give women a chance to talk about domestic violence, prevention and ways to help victims and each other, said GVF founder Mayra Diaz.
"We want to form a group that will support each other," Diaz said.
Hikers will meet at Alvarado Park's staging area at 1 p.m. The hike will begin at 2 p.m. and is expected to stop at 3 p.m. Organizers plan to hike for an hour to a grassy area or field where participants can sit in a circle to hold a group discussion in Spanish about femicide, domestic violence and healing. Femicide is the killing of a woman or girl because of her gender.
The discussion will be led by Mercedes Marquez, a Spanish program coordinator for the National Alliance on Mental Illness. Other speakers will also be present.
Diaz hopes to have time to include physical and spiritual exercises such as yoga, she said.
The event will conclude at the grassy area. Participants will be free to return to their cars or continue hiking as they please.
"These events are important for the community to keep learning," Diaz said.
Many young people experience domestic violence or know people who are. It has become normalized to the point that toxic relationships are glorified, she said.
The idea that women and their features are less valuable than men and their features runs rampant in our culture. This mentality enables people to continue sex trafficking in their own communities like 23rd Street and the surrounding area. It is the reason Vanessa Guillen was murdered on a military base in Texas. And why domestic violence is widespread in our communities, Diaz said.
As a survivor of domestic violence herself, Diaz feels an urgency to speak up against it. She was in an oppressive relationship with her ex-husband, a gang member, for 10 years. Diaz has seen many victims stay with their abusive partners, like she did, because they feel trapped and don't have a way out, she said.
"Silence kills," Diaz said.
In 2018, authorities in California received an estimated 166,890 calls about domestic violence, according to KidsData.org. Locally, 3,263 of those calls were made in Contra Costa County. Historically, calls reporting domestic abuse in the county have stayed around 3,000.
The increased time at home lately saw a rise in domestic violence calls to law enforcement, the Mercury News reported last year. In April 2020, Richmond police reported a 16% increase in domestic violence incidents compared with 2019. That was the first month in the lockdown.
>>>Read: Domestic Violence has Increased During Pandemic: 'We Live in an Abusive Society'
"It happens around us," said GVF coordinator Evelia Pintor, who is organizing the hike.
Pintor recalls the heartbreak she felt when she read the news recently of an 11-year old girl whose father and stepmother have been charged with torturing and killing her in Rodeo, a 15 minute drive from Richmond.
It reminded her of how many intersections of abuse happen in a dysfunctional home, she said.
Domestic violence can impact anyone from children to the elderly, and no one is safe if they are alone, Pintor said. That is why she is proud to organize this event for the community to learn and heal together.
She hopes it will allow someone to feel like they are not alone. And having the event in a natural setting is aimed to flourish an safe and peaceful environment.
"Nature heals," she said.
Pintor hopes to continue doing community hikes hosted by GVF every month, although no dates have been decided for following events.
"This is the beginning of something beautiful and meaningful," Pintor said.
Correction: An earlier version of this story said hikers should meet at 2 p.m. They should meet at 1 p.m. and will start hiking at 2 p.m.