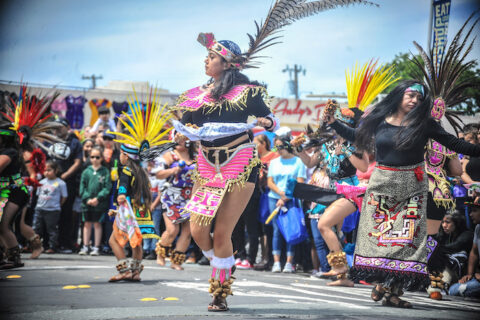 30 Sep

Richmond Ranked Most Diverse City in the U.S.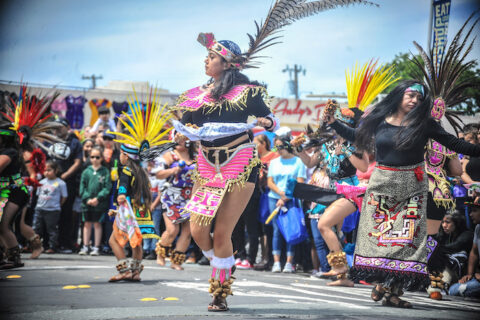 An Aztec dancer performs at Richmond's 12th annual Cinco de Mayo Festival in 2018. Events like this help residents celebrate their cultures and the city's diversity. (Denis Perez-Bravo / Richmond Pulse file)
By Denis Perez-Bravo
Richmond has been ranked the most diverse city in the United States in a study by Finder.com.
The study ranked 209 cities by 17 cultural, socioeconomic and household diversity factors, using U.S. census data.
Other Bay Area cities San Leandro, Antioch and Hayward also landed in the top 10.
Cultural diversity points were given to cities based on residents' sex, race, age, ethnicity, language, citizenship and place of birth. Socioeconomic points were based on educational attainment, occupation, industry, class of worker and veteran status. And household diversity points depended on household type, marital status, family type and family size.
"We are born and raised in diversity," Fabian Angulo said.
Angulo, 28, has lived his whole life in Richmond, most of it in the Iron Triangle neighborhood.
Customs are intertwined among the city's diverse population. Angulo said that is his favorite thing about living in Richmond.
"Without knowing, we immerse ourselves in other people's culture," Angulo said.
People living in Richmond actively preserve their ways of life. That is seen in cultural events such as the annual Juneteenth Parade down Macdonald Avenue or the Cinco De Mayo Parade and Festival on 23rd Street, he said.
According to the 2020 census, Richmond has a population of 116,448 people. Of those, 35% are foreign-born and 42% identify as Hispanic or Latino.
Broken down by race, 36.5% of Richmond residents identified as white; 20.2%, Black or African American; 15.3%, Asian; 0.5%, American Indian; 0.4%, Native Hawaiian or other Pacific Islander; 21.4%, another race; and 5.7%, two or more races.
Courtney Cummings, a Northern Cheyenne member of the Three Affiliated Tribes, said she is happy to live in Richmond where Indigenous cultures have been supported and appreciated.
"I know that this city acknowledges us Native Americans," she said.
Cummings said the diminished population of Native Americans nationwide means their needs are not often addressed, particularly when decisions about what to fund and who to represent are based on census data.
But in Richmond, she has been able to successfully advocate for Native communities with local support. Cummings has been a cultural speaker in schools and at different events since 1989.
Since 2009, she has organized the annual Richmond powwow. Pre-COVID, the powwow would gather hundreds of people from different tribes to celebrate their heritage.
Gabriella Hernandez, a communications major at Contra Costa College, said she loves the city's diversity. She loves the feel of Richmond, full of people she can relate to.
In Richmond, she said, two strangers with different ideas can meet each other and have a meaningful conversation about their differences. And usually they would find out they have many things in common.
"Everyone is different, but we all have common denominators," she said.
Hernandez worries, though, that the study does not paint a whole picture of what is happening in Richmond. As culturally diverse as Richmond is, there is a growing gap between socioeconomic classes in the city.
"I know a lot of people that have moved out of Richmond," she said.
Rising rent prices and out-of-town developers are a sign of the growing gentrification that haunts Richmond residents struggling to stay in the city, she said.
She's not the only one who thinks the ranking doesn't tell the whole story.
The study "is good. However being the most diverse doesn't mean it is aligned to equity," Richmond native Ahmad Anderson said.
Anderson, a business executive, has run for office many times in Richmond.He champions for job creation, growth development and neighborhood safety.
"I'm glad to see we are on the map for something other than violence," Anderson said.
He said he hopes the study's narrative of a diverse Richmond doesn't downplay the work that needs to be done in housing, public education and the local economy.
Minorities are mostly represented in economically underdeveloped areas like Richmond's downtown area and the Hilltop shopping district, Anderson said.
As a longtime resident, he has seen how drastically different those neighborhoods are from Point Richmond and Marina Bay, where there are fewer minorities and a growing economy.
And the economic gap has kept these different communities mostly segregated across socioeconomic classes.
"Although there is diversity, it does not spread to the whole city," Anderson said.