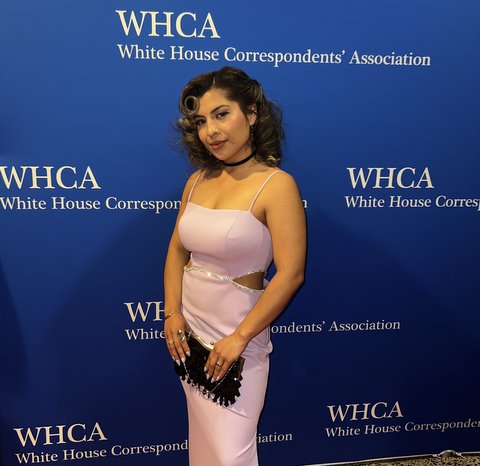 03 Jun

The Road From Richmond to the White House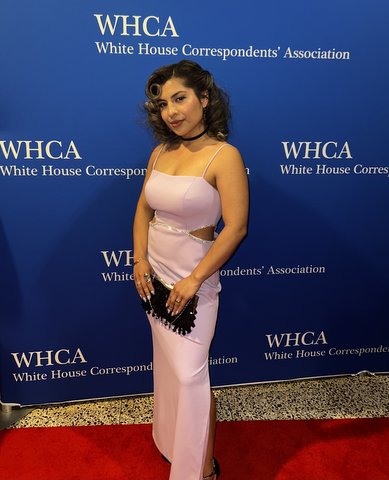 Maria Fernanda Bernal walked the red carpet for the White House Correspondents' Dinner. (Photo by Malak AlSayyad)
EDITOR'S NOTE: Maria Fernanda Bernal has been with the Richmond Pulse since 2019, covering immigration, public health and more. She has continued to contribute to the Pulse since entering graduate school and wrote the following about her trip to Washington, D.C., to attend the White House Correspondents' Dinner.   
Commentary, Maria Fernanda Bernal
As I held the heavy, black gates to the White House open, I looked up and wondered how tall they were. I was the next student journalist in line. I walked up to a window and was sent through security.
Before applying to graduate school, I pondered for a long time how I would pay for it. I don't like asking my parents for money. And I didn't want them to worry. They have bills to worry about, and I didn't want to be a burden. I scanned the website for scholarships. Then, I came across the White House Correspondents' scholarship.
"Wouldn't that be crazy?" I thought. "I am applying to UC Berkeley. How much crazier can it get?"
But it happened. I was chosen to be this year's UC Berkeley Graduate School of Journalism White House Correspondent scholar. I was sent to D.C. for the dinner, hosted by Trevor Noah.
After passing the male guards, I walked with the other students up the driveway. On the right was a line of tents with small — but top-tier — production setups. To my left was the White House. As I stared at it, I had to remind myself this was not a dream, but it once was.
The walk to the White House wasn't what I had thought it would be. The closer I got, the bigger it looked and the faster my heart beat.
The pressroom looked smaller in person and reminded me of a small chapel. Everything we said in that room was being recorded, so we had to be careful what we said.
I was confused about who we were going to meet. Our itinerary was vague. My guess was that it was for security reasons. For me, it made every moment exciting.
The former White House press secretary Jen Psaki came out of a white sliding door, and the energy in the room immediately shifted. We were told we could ask a question that we would be able to use for reporting.
My life in the weeks prior to walking the White House lawn felt scary. I was overwhelmed with the thought of being around powerful people and potentially exposing myself and my family to harm because we're immigrants.
>>>Read: 'My Life Feels Like a Subscription': An Immigrant's Story
Coincidentally, I was sitting in the Fox News chair when I raised my hand to ask a question about DACA and immigration. It felt like work and nothing more. I was unafraid to ask a question that pertained to my life — even being vulnerable as an immigrant.
When that part of the itinerary was done, we were taken to lunch at the Watergate offices. I was relieved when we headed back to our hotels. I was exhausted from the California to Washington, D.C., time change. It was hard to sleep, and my days started early in the morning.
The correspondents' dinner was held at the Hilton hotel where I was staying.
Then, it was Saturday morning — the day had arrived. It was like getting ready for my quinceañera all over again. The difference was that I was alone and I knew no one.
For weeks leading up to the event, I felt like Cassie from the TV show "Euphoria." I was obsessed with skincare and my physical appearance. I felt this invisible pressure to look perfect. Women have higher aesthetic standards to live up to than men, and I was playing right into these expectations.
I felt caught in a shallow loop of meeting societal standards and feeling powerless to fight. Self-care is fun and relaxing. But obsessing over physical looks is not healthy and plays into the patriarchal system.
Playing into these invisible standards matters and not following them matters too. I felt freedom in choosing meaningful pieces in my wardrobe. Some of those pieces were from Bay Area shops and artists. I wasn't going to lose all of myself. This was a compromise I made to survive as a modern professional woman.
I began to get ready for the event three hours before our meet-up time. It was mandatory that I test negative for COVID the day of the event and be fully vaccinated. I had spent two weeks in self-isolation prior to leaving to avoid getting COVID.
I had my ticket and COVID vaccination card ready, which I showed to security at different checkpoints. It was clear I was going to be one of the few Latinos in that room that night. It made me feel lonesome and disappointed.
At one of the checkpoints, the Secret Service checked our bags and used a metal detector to scan the front and backs of our bodies. The scholarship cohort was the first to arrive.
The room we were in filled up. But once it was fully packed, the ballroom doors were opened, releasing the pressure built up in the venue lobby. In the venue, my phone started acting strange. It shut off and turned back on. The flash on my phone and others didn't work either. We never were given any explanation for that.
I met several celebrities throughout the night. I took a picture with Pete Davidson, and he seemed cool. He reminded me of guys I went to high school with.
It was wild being announced in the ceremony and seeing my picture on the big screen. There I was on national television and would be documented permanently.
Throughout the night I had interesting looks and conversations about the future. But my proudest moment was when I was asked if my parents were journalists. I responded no, my father is a construction worker, and my mother sometimes sells food.
I am proud that I walked through these rooms with my head held high. Representing my community felt like a burden, at first. The responsibility seemed overwhelming, but later it became an honor.
I am not sure if the numbing spray I had put on my feet to keep my feet from hurting through the night worked or if the rush numbed them for me. But by the time I got to my room, it had worn off.
It was a magical night, but I was ready to come back home to Richmond.