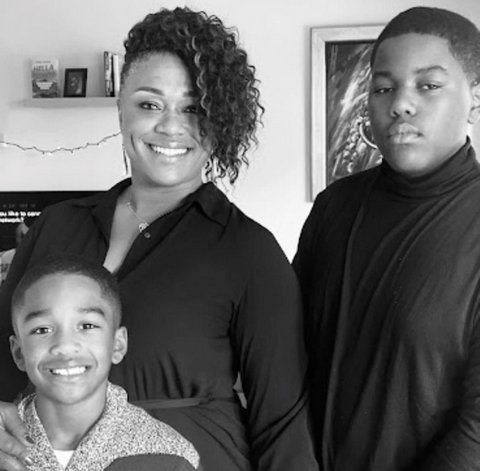 16 Jun

Mistrust and Misinformation Hold Back Black Vaccination Rates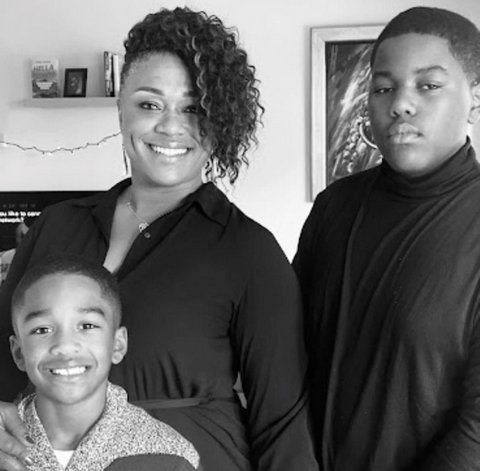 "I should have listened to you," an unvaccinated Eric Banks told ex-wife Mellonie Banks after testing positive for COVID-19. Here, she is pictured with their sons, Michael, 8, and Evan, 13. (Photo courtesy of Mellonie Banks)
By Danielle Parenteau-Decker
Mellonie Banks' ex-husband didn't want to get vaccinated. When she wanted to get their older son vaccinated, he became angry.
Her ex didn't trust the government or vaccine manufacturer Pfizer. He wanted to do his own research.
They went back and forth. He shared misinformation he saw on social media. She tried to change his mind.
It worked. Eric Banks was scheduled to get vaccinated Sept. 3, as was their son Evan.
But it was too late for Eric.
On Sept. 1, the day after his 56th birthday, he tested positive for COVID-19.
"I should have listened to you," she said he told her in a text message.
He didn't want to go to the hospital. He stayed home and ended up hospitalized with double pneumonia. He didn't want to go on a ventilator. He thought that would kill him. When he finally was intubated, "it was too late," Mellonie said.
Less than three weeks after testing positive, on Sept. 18, 2021, Eric Banks went into cardiac arrest and died.
The day he tested positive so did Mellonie and their sons, Evan, 13, and Michael, 8. Mellonie was vaccinated, Michael wasn't eligible, and Evan was days from his appointment to get the vaccine. The boys had mild symptoms. She got very sick, but they all recovered.
"If I didn't get vaccinated, I would have died, and my children would have been orphaned," she said.
Banks worked for Contra Costa Health Services but left as her family moved away after her ex-husband's death — partly for a fresh start and partly because the Bay Area's high cost of living was too much without Eric's support.
"It's very important for children to get vaccinated," she said.
But mistrust and misinformation are keeping some Black parents from getting their children the COVID-19 vaccine.
Roughly 48% of Black children in California aged 12-17 and just 22% of those 5-11 have been vaccinated as of June 13, less than Asian, Latino and white children in both age groups.
Some people don't want the vaccine at all; others want to wait and see — often because of myths circulating on the internet. For Black people, the reluctance runs much deeper.
>>>Read: Churches Play Key Role in Getting Black People Vaccinated
Zelon Harrison, co-founder of the Black Parents Resource Center in Richmond, said people have told her they are afraid of the vaccine and "what they want to put in your body."
We "don't know if we want our kids exposed to this," said Harrison, a mother of eight.
For many Black people wary of the vaccine, the No. 1 reason is "distrust of the healthcare system," said Dr. Desmond Carson of the LifeLong health center in Richmond. "We are well-justified in our anxiety on getting a new medicine."
Carson said this is largely because of the history of Black people being "experimented upon" — women sterilized, men denied treatment for syphilis. Indeed, the U.S. Public Health Service Syphilis Study, commonly known as the Tuskegee study, is a key reason why many Black people don't trust the healthcare system.
Yurina Melara Valiulis, multiethnic press secretary of California's COVID-19 vaccine task force, said the state has hosted public events with survivors of the Tuskegee study and their descendants, "talking about the difference, now and then, and how crucial it is for [Black people] to get vaccinated."
"Remember, the big thing with the Tuskegee institution … was that they had the damn medicine for syphilis; they just didn't give it to 'em," Carson said. "We now have the medicine for this coronavirus, a vaccine. It's out there. Go get the damn vaccine."

Dr. Jennifer Miller of East Bay Pediatrics also put the history into perspective.
"I'm not asking you to forget," she said. "I'm saying this is not that."
The trauma of longstanding medical mistreatment might explain why some Black people have been swayed by others who do not have their best interests at heart.
Elisa Cecaci of the East Oakland Collective said misinformation has been spurred on by politics, primarily spread by conservatives. She said the people she knows typically aren't Trump supporters. "But that doesn't mean that information isn't seeping into our communities," she said.
Cecaci is Latina, but her husband and children are Black, as are many people in her community she talks to about the vaccine. She offers support and information without judgment.
She said vaccine-hesitant Black people see "common ground" with the anti-vax Republicans spreading misinformation because of their shared suspicion of the government. They feel justified when they hear something negative about the vaccine, even if it's coming from racists, Cecaci said.
That misinformation comes in many forms.
Harrison said some people worry the vaccine is "population control."
COVID-19 has killed more than 1 million people in the U.S.
"That's more than the amount of people that died in World War II and the Civil War put together," Carson said.
In California, Melara Valiulis said the death rate from COVID-19 "for Black people is 18% higher than statewide."
But getting vaccinated against COVID 19 has been shown to be extremely effective at preventing serious illness, hospitalization and death.
Cecaci said some people with preexisting conditions are more afraid of the vaccine than the coronavirus.
People in poor health are more likely to suffer the worst consequences of COVID-19.
"The people who got sick were the people who had bad health problems: diabetes, hypertension, COPD, emphysema, liver disease, renal disease," Carson said. "The people who got COVID who did bad were the people who had these preexisting diseases."
Carson said misinformation is so dangerous for Black people, other people of color and poor people, all of whom are more likely to have preexisting conditions and less likely to be able to access care "because we die."
He emphasized that as bad as this is for Black Americans, it is worse for another segment of the population.
"Do not forget Native Americans," he said. "My dad always told me, 'Dez, when s— is bad for Black people, it's horrible for Native Americans.' "
He also mentioned other successful vaccines.
The "polio vaccine stopped a whole lot of babies from dying," he said. "We don't even remember polio, mumps, measles, rubella, etc., because [of] vaccination."
But some parents who trust vaccines in general are wary of this one.
The COVID-19 vaccines became available as the U.S. Food and Drug Administration authorized them for emergency use in adults in December 2020 — less than a year after the pandemic began. Pediatric vaccines were authorized later.
Miller said a friend who is a mother of two didn't want her family to get a vaccine that wasn't fully approved.
"I couldn't dispute her," she said.
The differences between authorization and approval "have nothing to do with the scientific rigor of the trials," writes Carrie MacMillan of the Yale School of Medicine.
"People couldn't wrap their head around how is this possible," Cecaci said, referring to the vaccine development timeline.
The urgency of the pandemic pulled in more money and sped things up by streamlining the process, not cutting corners. The mRNA technology in Pfizer and Moderna's vaccines "has been around for over two decades. It's not new," Melara Valiulis said.
The mRNA vaccines also do not infect you with the coronavirus or affect your DNA.
"In 20 years, we have not seen any long-term effects," Melara Valiulis said.
There is no evidence the vaccines affect fertility either. Miller said the fear that getting vaccinated could endanger their daughters' fertility is the one myth she hears only from Black parents.
"This is not based on any science," Melara Valiulis said. "This is just misinformation that is out there."
Harrison said some parents have heard "it's causing heart problems" in children. But cases of heart inflammation among vaccinated children have been rare.
Miller said during an Ethnic Media Services press briefing these were generally mild, "went away on their own" and did not result in long-term consequences. COVID-19 causes heart problems that are "much more dangerous."
>>>Read: Waiting to Get Kids Vaccinated Comes With Its Own Risks
With all the misinformation and the well-founded mistrust, what will it take to change people's minds?
Mellonie Banks said it is important to "speak to Black people in their language" and "reach them at their level."
Harrison said there is a "lack of knowledge" and "lack of connection" because people don't see enough Black doctors or people in their community advocating for the vaccine.
If they see that someone Black — someone like them, someone they know — has gotten vaccinated and says they should too, that makes a difference.
Melara Valiulis said the state has made a point of "trying to be where people are with the message they can understand and with messengers that they feel comfortable with."
"It's not a state official just saying, 'Oh, go get vaccinated,' " she said. "That's not going to fly."
Miller and Carson said they believe vaccine-hesitant Black people are more likely to listen to them as Black doctors.
Carson said he wants his patients to know he can relate to them. He grew up in the community, and having had Guillain-Barré disease made him "very hesitant, very hesitant" to get vaccinated.
Mellonie Banks shared her family's story in a video for Contra Costa Health Services — with her sons by her side — and in a speech at her ex-husband's funeral. She said she especially wanted to reach parents of young children. It was "important for me to share … because I'm Black."
After Eric died, Mellonie said at least 20 people she knows who had been on the fence about whether to get the vaccine did get vaccinated.
This story was produced as part of Ethnic Media Services' COVID Myth Busters fellowship program, with funding from the California Department of Public Health's VaccinateAll58 campaign.