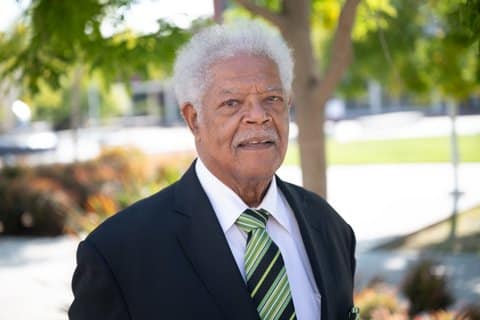 02 Sep

Former Richmond Mayor Nat Bates is Running Again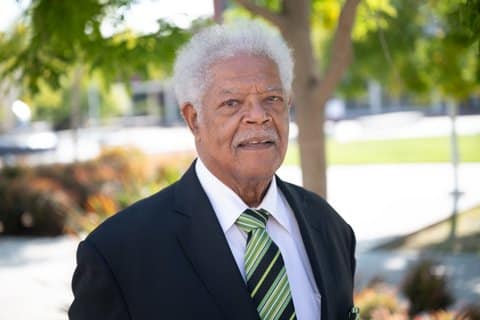 City Council member Nat Bates was mayor of Richmond from 1971-72 and 1976-77. Now, he's running to replace the outgoing Mayor Tom Butt, whom he lost to in 2014.
Editor's note: Read our profiles of other candidates running to replace Mayor Tom Butt: conflict resolution specialist Shawn Dunning and Vice Mayor Eduardo Martinez.
Story and photos by Jonathan Hale
It would be impossible to tell the story of Richmond politics without telling the story of Nat Bates.
Bates will turn 91 Sept. 9 and is the nation's oldest elected official, according to the Richmond City Council website.
He first came to Richmond at age 11 in 1942, traveling from Texas by train to join his mother who worked at the Kaiser Shipyards.
Bates grew up in segregated government housing on Richmond's southside. He graduated in 1950 from El Cerrito High School and was a star athlete. Bates played professional baseball in the Canadian cities of Medicine Hat and Indian Head. 
His athletic career was interrupted when he was drafted during the Korean War. After serving in Korea for two years in the Army, Bates attended Contra Costa College and graduated from San Francisco State.
Starting in 1958, Bates worked as a probation officer in Alameda County. He served as a group counselor and rose to the position of administrative supervisor before retiring in 1989.
Bates' political career began in 1967 when a group of friends and community leaders implored him to run for City Council.
He describes himself as being a "common citizen" before entering Richmond city politics.
During his first six-year term on the council, Bates served as mayor from 1971-72. He was reelected to the council in 1973 and served as mayor again from 1976-77. In 1979, Bates was elected to a four-year term after voters decreased the length of terms for City Council members.
Then, in 1983, he took a 12-year hiatus from politics. But his city government career was far from over. He successfully ran for another term again in 1995 and then was reelected in 1999, 2004, 2008 and 2012.
The 2014 City Council election saw a slate of candidates backed by the Richmond Progressive Alliance. An umbrella organization of progressive-leaning politicians and activists, the RPA launched a campaign to counter Chevron's historic influence in city affairs.
Chevron spent nearly $3 million, which amounted to about $72 per registered voter, in the 2014 race. The money funded an onslaught of political advertisements attacking the RPA's "Team Richmond" and favoring its own slate of political candidates, which included Bates.
Despite Chevron's efforts, RPA-endorsed candidates Gayle McLaughlin, Eduardo Martinez and Jovanka Beckles all won seats on the council. Bates, meanwhile, lost the race for mayor to the RPA-backed Tom Butt.
Following that election, Bates took another break from politics but returned in 2018, winning a ninth term on the council.
In an interview with the Pulse, Bates expressed discontent with the RPA's effect on Richmond in recent years.
"They are pitting individuals and landlords and tenants and a large segment of the business community against each other," Bates said of the RPA. He also described the group as "socialist."
Bates accused RPA candidates of fostering an unfriendly climate towards businesses, particularly through Measure U, which voters passed in 2020. Measure U imposed a citywide business tax of up to 5%, based on annual revenue, with higher rates for big businesses and marijuana and firearm businesses.
He was also highly critical of efforts to defund the police after George Floyd's murder in 2020. Bates described public safety as his No. 1 priority. "When anyone is threatening your life or breaking into your home or putting you in jeopardy, you want a police officer," Bates said.
Bates' old-school approach to politics has drawn criticism, with some describing him as conservative.
Asked why he has chosen to remain active in city politics, Bates cited his faith and duty toward public service. "I enjoy doing it," he said. "I don't expect any rewards. I just do it out of the goodness of my heart and feel that I'm giving back to the community to some degree what God has given me."
He also sees himself as the most qualified candidate on the ballot, with an unmatched four decades in city government. Bates believes his competitors fail to fully understand the responsibilities of the city's top elected office.
Despite his age, Bates is fully committed to serving another term.
"Until the voters say, 'Hey, now that you've done all you can do, you can take a vacation or whatever,' and they don't vote me into office again, so I'll be hanging around."