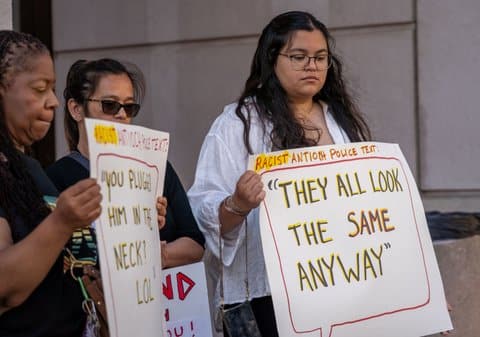 17 Aug

FBI Arrests Antioch, Pittsburg Police Officers in Civil Rights Probe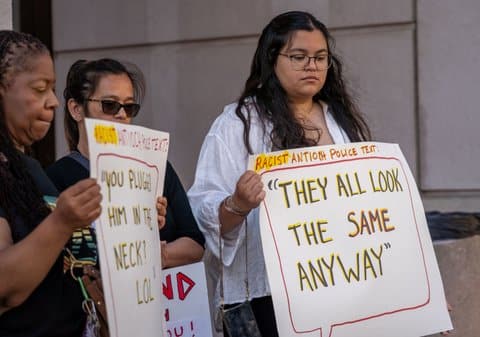 Bella Quinto Collins, right, protests Antioch Police outside A.F. Bray Courthouse in Martinez on July 21. Her brother Angelo Quinto died from complications three days after being knelt on the neck by an Antioch police officer. (Harika Maddala / Bay City News / Catchlight Local)
By Tony Hicks
Bay City News
The U.S. Attorney's Office in San Francisco and the FBI are holding a joint news conference Thursday afternoon, where they are expected to announce the arrest of Antioch and Pittsburg police officers for civil rights violations.
Antioch Mayor Lamar Thorpe confirmed that multiple officers were arrested by the FBI on Thursday morning in a civil rights probe that started in early 2022.
"Today is a dark day in our city's history, as people trusted to uphold the law, allegedly breached that trust and were arrested by the FBI," Thorpe said in a statement. "As our city absorbs this tragic news, we must come together as one. Today's actions are the beginning of the end of a long and arduous process."
The FBI and Contra Costa County District Attorney's Office have both investigated the departments since early 2022. The state attorney general's office opened its own probe earlier this year.
Among the allegations are chains of text messages sent between as many as 45 Antioch officers, using racial slurs and describing violence against suspects, and going as far as threatening Thorpe, who is African American. The N-word was used at least a dozen times, as were terms describing African Americans as "gorillas."
The texts also described recently retired Police Chief Steven Ford, who is African American, in racially derogatory terms. They also contained homophobic slurs and suggested violence against unhoused people.
As many as 45 of Antioch's approximately 100 officers were placed on leave because of the texts.
Messages left for the Antioch and Pittsburg police departments Thursday weren't returned. The FBI and U.S. Attorney's Office only confirmed there would be a press conference at 3:30 p.m. to announce "significant law enforcement actions."
Some of the defendants named in the texts, including those convicted and accused of murder, have already had their cases overturned in court or are challenging their arrests as racially motivated and violations of the California Racial Justice Act.
Civil rights attorneys John Burris and Ben Nisenbaum have filed two lawsuits so far involving 13 plaintiffs accusing Antioch police of civil rights violations, among other allegations. The lawyers have said they've interviewed another "140 people who claim they also have been subject of multiple constitutional violations by Antioch police officers for years," they said in a statement earlier this month.
Thorpe said Thursday the arrests are demonstrative of issues that have plagued the Antioch Police Department for decades.
"Seeking to reform the Antioch Police Department is not anti-police, it is pro our residents, and pro officers that have served and continue to serve with honor," Thorpe said.
Copyright © 2023 Bay City News, Inc. All rights reserved. Republication, rebroadcast or redistribution without the express written consent of Bay City News, Inc. is prohibited. Bay City News is a 24/7 news service covering the greater Bay Area.
'Fire Everyone Who Is Racist': Black Antioch Residents, Mayor React to Police Texting Scandal