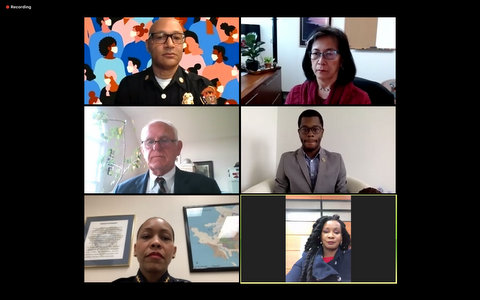 18 Apr

City Leaders Talk Coronavirus Response at Virtual Town Hall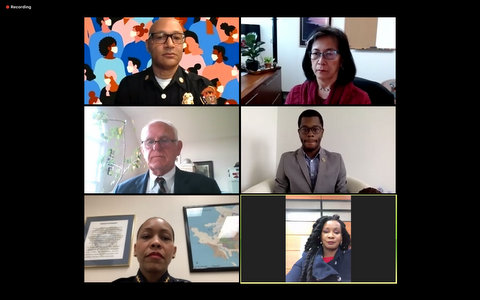 By Edward Booth
Richmond city leaders held a virtual town hall meeting Friday to update the public on their response to the COVID-19 pandemic.
The meeting, held via Zoom video conferencing, began with brief talks from Mayor Tom Butt and City Manager Laura Snideman. Both gave overviews of the city's response to the pandemic and said crafting a budget with coronavirus-related losses in revenue is going to be the most daunting task for city leadership in the coming months. Snideman the city is facing significant effects on the budget for this year and the next, and more information could be available as early as next week.
On community support, Butt said the mayor's office had been putting together an initiative known as the "Richmond response fund," led by the city manager's office, edfundwest, RYSE and several other nonprofit organizations. He said more information would be forthcoming.
"During World War II, the we-can-do-it spirit captivated Richmond as our residents made some of the countries' most significant contributions to victory," Butt said. "Though this is a different kind of global conflict, the we-can-do-it spirit remains the same."
Snideman, who is leading the city's Emergency Response Center, said central city services — including the police, fire department and public works department — are fully operational. Most other departments are closed, she said, though the city is making efforts to keep communication channels open and regularly update its website.
The city, Snideman said, is following the direction of the Contra Costa Health Agency, which sets the rules for the current shelter-in-place order. She said the agency has the authority to set the pace for future recovery as well, though city leadership is beginning to think up specific plans on how to reopen.
Richmond is working with Contra Costa County to periodically decontaminate police and fire department vehicles, Snideman said. The city also teamed up with the county and state to provide the Craneway Pavilion as a 250-bed alternative care site, which is set to begin operating if medical beds are filled as the pandemic progresses.
"We've repurposed a wartime facility to fight this war on the virus." Snideman said. "So that is ready if we need it."
The bulk of the roughly hourlong meeting was carried out in a question and answer format. Moderators Michelle Milam and Christopher Whitmore read questions to the panelists — Butt, Snideman, Richmond Fire Chief Adrian Sheppard, Interim Richmond Police Chief Bisa French and emergency service manager Genevive Pastor-Cohen — or answered the questions themselves.
Many questions were about managing the economic insecurity resulting from the shutdown of businesses and most workplaces. Other questions were about the city's response to homelessness, enforcement of shelter-in-place, ways to help the community and when large neighborhood and community events would be able to restart, among others.
On the enforcement of the shelter-in-place order, French said, the Richmond Police Department was focusing on educating the public on the specifics of the health order and issuing citations when necessary.
"We will cite and have cited people for willful defiance of the order," French said.
A challenging part of enforcement is that police officers increase their risk of exposure to the virus every time they respond to a call, French said. The fire and police departments have adequate personal protective equipment for now, but they wanted to make sure they had enough supplies to last the duration of the crisis, according to French and Sheppard.
French also said the police weren't enforcing parking unless it related to safety, as there are more cars than parking places
Sheppard said more than 8,000 people had been tested for COVID-19 in Contra Costa County, and 631 cases had been confirmed, with 66 in Richmond. In the county, 37 people with the disease have been hospitalized, and 16 have died.
Pastor-Cohen said they had no prediction of when community gatherings could resume. She said it will depend on how well COVID-19 is contained and that the city is dependent on what the county and state say.
Answering a question on food insecurity, Milam said the city had a low-cost meal program to deliver seniors meals, costing as low as $3 a meal. She also directed people to the West Contra Costa School District, which is giving out breakfast, lunch and supper meals in 17 locations — including Kennedy High School and Richmond High School — from 11 a.m. to 1 p.m on weekdays. The district is also in need of volunteers to hand out the food, she said.
Homlessness was also a prominent topic. One questioner had concerns about crime and safety because, they said, they'd seen an increase of homeless people living in their vehicles near Planet Fitness. French said the shelter-in-place order limits enforcement of homeless encampments, but they can respond if there's an issue occurring.
"Dispersing encampments may be more hazardous if there are people there who have the virus," French said.
Milam said the $100 million authorized by Gov. Gavin Newsom on March 18 for local governments for shelter support and emergency housing had helped the most vulnerable homeless by providing housing vouchers. At the encampment sites, she said there was still a need for hand sanitizer and portable toilets, and more help was needed.
"One important thing to remember is we have to work better together," Milam said. "After COVID we're going to need a serious relief effort for those who are in need."