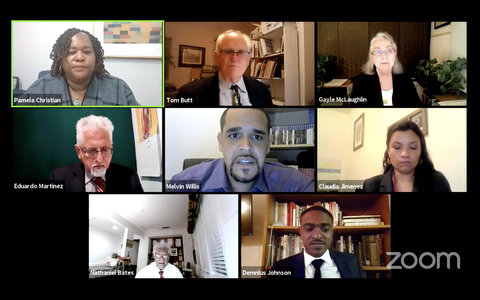 11 Jun

Council Moves Toward Balanced Budget Without Layoffs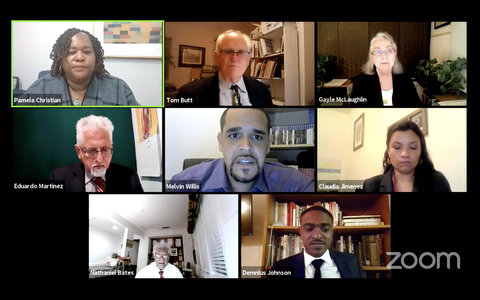 The Richmond City Council must pass the budget by the end of this month. (Screenshot captured by Mathew Miranda / Richmond Pulse)
By Mathew Miranda
The Richmond City Council on Tuesday moved closer to passing a budget that does not include layoffs for any department.
In addition, a motion directing staff to not increase police officer positions passed 5-2, with Mayor Tom Butt and Council member Nat Bates voting against. Tuesday night provided the second review of a proposed budget for the 2021-22 fiscal year that it is hoped will be passed at the June 22 City Council meeting. The budget must be adopted by the end of June.
In their Tuesday night presentation, city staff offered a balanced budget with both projected revenues and expenditures at almost exactly $190.9 million. This represents a stark contrast from the May 4 draft budget that showed a deficit of $12.6 million. The city benefited from a "pleasant surprise" of $15.6 million in the positive balance, according to Human Resources Director Anil Comelo.
Comelo said there are several reasons for the surplus. He said these include starting the last fiscal year with 60 frozen positions, not providing raises for non-sworn city employees for six straight years and conservative pandemic budgeting.
"This city, like every other, had a more conservative outlook in the budget forecasting then turns out we needed to," Comelo said. "Most importantly, the sales tax did not plummet as we expected, and we are in better shape."
Comelo added that staff hopes the $15.6 million surplus will be allocated to five areas: $1.3 million to Reimagining Public Safety Task Force recommendations, $1.7 million for facility improvements, $2.3 million in staff raises, $4.2 million for maintaining the budget reserve level and $6 million for a write-off to the Richmond Housing Authority.
Estimated revenues also increased by $8 million from the initial draft budget. Accounting Manager Antonio Banuelos said the increase primarily stems from updates of sales tax and documentary transfer tax projections. Staff increased the expected transfer tax from $8 million to $11 million, based on a historical amount received.
On the expenditure side, 74% or approximately $140 million stems from salaries, wages and benefits. The police department represents the largest department expenditure at 39%, followed by the fire department at 18% and public works at 14%. Staff also updated expenditures by including a vacancy savings fund, which is the amount not spent on salaries and benefits when a position is vacant. The proposed vacancy savings rate equates to a $5.8 million reduction in expenditures.
Additionally, the city plans to unfreeze 12 positions and hire 10 new positions. This does not include any sworn police officer positions. Based on current projections, the police department will eliminate 12 officer positions that were previously budgeted but unfilled due to recruitment challenges. The cost of these positions is about $3 million.
>>>Read: Richmond Has Fewer Police Officers Amid Budget Reallocation Talks
Butt cited the agenda report stating the proposed budget "preserves city services at the current level." He called the statement incorrect in regard to the police budget.
"Clearly, this budget anticipates a substantial reduction in police services," Butt said.
Bates also spoke out against a proposed reduced police budget. He said any reduction would "cost the city dearly" and affect Black, Brown and senior communities the most.
"You want to take away police that are protecting our minority communities," Bates said.
Council member Claudia Jimenez challenged the "misinformation" being spread to create debate among the public. Jimenez said she recently met with Chief of Police Bisa French and task force members to start discussing ways to implement the recommendations without leaving a gap in services. That led to Jimenez's motion to not implement any layoffs in city departments or increase police officer positions.
"There are not going to be layoffs, so stop this division and misinformation," Jimenez said.
In Tuesday's proposed budget, city staff accounted for $5.58 million in task force recommendations, but the council has voted to include the full $10.3 million.  City Manager Laura Snideman is targeting next week's meeting to resolve the debate along with settling on how to use American Rescue Plan funds.