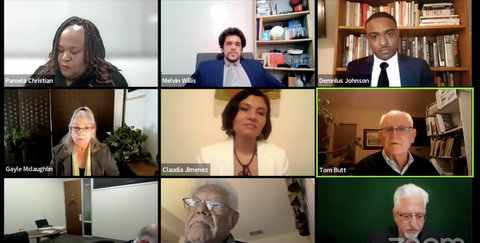 19 Jan

Council Considers New City Voting Maps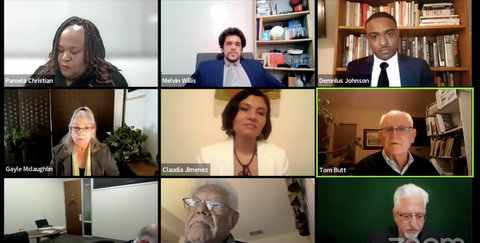 Richmond held its first public hearing Tuesday on the current city election redistricting process. (Screenshot captured by Julia Métraux / Richmond Pulse)
By Julia Métraux
The Richmond City Council hosted its first of two scheduled public hearings on Richmond's redistricting process at its meeting Tuesday.
The city has to adapt its six districts in accordance with information from the 2020 census. Shalice Tilton, a senior consultant at National Demographics Corporation, said the city's districts have to follow both federal and state guidelines. These include having an equal population in the districts, no racial gerrymandering, no undivided neighborhoods, and being geographically continuous.
The council is considering seven maps, of which three were created by members of the Richmond community and four were created by the National Demographics Corporation.
During the public comment session for this hearing, many members of neighborhood councils spoke in favor of Map 102. The last redistricting process was criticized in 2011 for breaking up Black and Brown communities.
>>>Read: Redistricting Plays Key Role in Minority Voting Power
"This map represents the efforts of a broad coalition of neighborhood councils that serve predominantly Latino and African American areas of northern, central and southern Richmond," Lisa Johnson, a 22-year resident of Richmond, said. "This map addresses several issues with the current map and eliminates the disenfranchisement of the Black and Brown communities of Richmond."
Council member-at-large Eduardo Martinez said that he was more in favor of 102 because of feedback from the community, but he asked Tilton to provide both the council and the public with more information about the demographics of each potential district and detailed maps.
Proposed redistricting map 102 earned the support of several community members at Tuesday's council meeting, with one saying it "eliminates the disenfranchisement of the Black and Brown communities of Richmond." (Screenshot captured by Julia Métraux / Richmond Pulse)
One reason why the redistricting process is very important is that council members are elected from districts every two years, with the next election for districts 2, 3, and 4 scheduled for this year, and the next election for 1, 5, and 6 scheduled for 2024. Council member Melvin Willis, who represents District 1, criticized this process.
"I personally wish we could just go to an at-large thing because the only thing I could feel during this whole conversation is just that division in a city that has been sore ever since I was a kid," Willis said. "People just kind of gang in groups trying to keep things separated."
The second public hearing for the redistricting process will take place at the Feb. 1 council meeting, and the council has to adopt the new redistricting map by April 17 of this year.
While he was originally scheduled to be absent, Mayor Tom Butt was present and led the meeting.
Report from the Implementation Subcommittee for Reimagining Public Safety Task Force
On June 30, 2020, the City Council began the process that led to the formation of the Reimagining Public Safety Task Force, and the first members were appointed Oct. 6 of that year. Marisol Cantu, a member of this task force and a third-generation Richmond resident, presented the council with updates from its work.
"SOS [Safe Organized Spaces] has been really critical in one aspect of the overall citywide community-driven approach to the unhoused intervention," Cantu said. "We were able to provide a shower power program that is, on average, giving about 3.5 events per week, and from October to December, have given over 300 showers during that period."
Cantu also gave an update on the YouthWORKS program, which helps prepare Richmond youth for the workforce. One of the program's goals is to provide 500 work experiences for Richmond residents between the ages of 16 and 24. So far, there have been 482 applications and 314 people have been onboarded.
>>>Read: Youth Finance Institute of America Advises Young Job Seekers
"The priority of YouthWORKS is to really make sure that youth are being placed in careers focusing on Richmond businesses and local organizations, but also making sure that we meet the needs of youth," Cantu said.
In describing the importance of the program, Cantu said participating young people are able to make their own money in ethical ways.
"As a result of the work experience, youth have not had to engage in the kind of underground economy of Richmond, and they have developed self-confidence and a sense of independence," Cantu said.
The next regular Richmond City Council meeting is scheduled for Jan. 25.