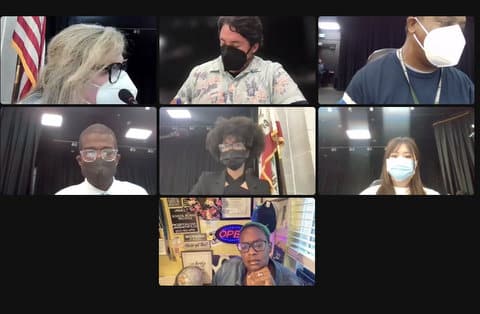 22 Sep

WCCUSD Teachers Call for Better Pay and Working Conditions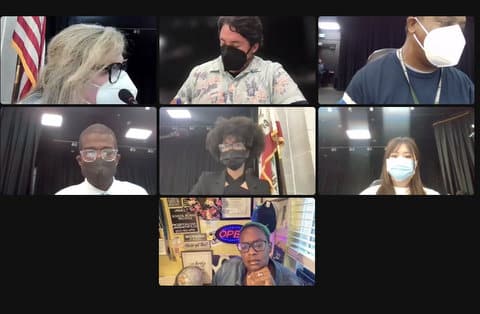 One teacher told the West Contra Costa school board Wednesday, "you've got a lot of nerve and absolutely no heart." (Screenshot captured by Julia Métraux / Richmond Pulse)
By Julia Métraux
Two hundred teachers in the West Contra Costa Unified School District resigned at the end of the 2021-22 school year. At Wednesday's school board meeting, many other teachers said they and others are close to following due to what they cited as a lack of respect from the district and pay that does not keep up with current inflation.
"We cannot have safe and supportive schools without relationships with teachers," said John Zabala, the current president of United Teachers of Richmond. "I ask you to hear the stories of our community and understand why we need a contract that makes wages and working conditions competitive."
>>>Read: School Board Gives District and Teachers' Union Green Light to Begin Negotiations
A month into the school year, WCCUSD has not hired enough people to fill teacher, counselor, administrative and special education positions. Teachers and parents also spoke out against the decision to move students into other classrooms, and some teachers to other schools, weeks into the school year. Some positions are currently just filled by substitute teachers.
According to WCCUSD superintendent Kenneth Hurst, there are 16 secondary school and 24 elementary school teacher vacancies. Hurst's presentation did not specify how many special education vacancies there currently are.
Teachers were offered a 3% raise by WCCUSD, but many spoke about how this is not enough.
"All I can say is now, after the past week with the latest chaos, is you've got a lot of nerve and absolutely no heart," said Rachel Grottke, a second grade teacher at Ellerhorst Elementary School in Pinole. "Three percent is a joke."
>>>Read: Teachers Demand Increased COVID Safety Measures, Threaten Strike
Keith Brown, an English and African American literature teacher at Greenwood Academy in Richmond, said he would not be able to encourage his brother to apply to work at WCCUSD schools due to the current rate of salary offered. Brown was honored in January by the 49ers for his work as a teacher.
"It's been an honor to come back to my hood and serve my community," Brown said. "Do not insult my intelligence by telling me y'all ain't got the money, or it's a little bit short."
The disrespect the district has for teachers is not limited to salary, according to Hercules Middle School mathematics teacher Mark Moran. He said that the threat of layoffs, which the board voted against at the end of last spring, led teachers to leave due to instability.
"This chaos is the consequence of decisions your administration and you the board have made," Moran said. "The damage had been done, and many teachers left the district that didn't have their backs."
Joey Taber, a risk management assistant for the district, also called on management to treat clerical staff better.
"Management should be grateful the clerical staff has been showing up to the sites on a daily basis for the past six months," Taber said. "Some have thought of leaving but can't because they have no savings. And so we're all stuck."
Teacher shortages are not unique to WCCUSD or even the Bay Area. The United States is grappling with a teacher shortage, as more and more educational professionals are changing careers or retiring. EdSource also reported in June that one in five classes in California is taught by teachers not credentialed to teach a specific subject.
>>>Read: 'We … Put Ourselves Last': Former WCCUSD Teachers on Why They Left the Classroom
Sarah Creely is a second grade teacher at Hanna Ranch Elementary School in Hercules who has been with the district since 1992. Creely said the COVID-19 pandemic and inflation have exacerbated the financial sacrifices that teachers make to pursue this career.
"As a single-wage earner, I couldn't afford a lot of the things that the families and my students have in Hercules," Creely said. "We have to do something to bring more teachers because we have a responsibility towards our children, our community's children. It's an emergency."
The next regular school board meeting is scheduled for Oct. 5.