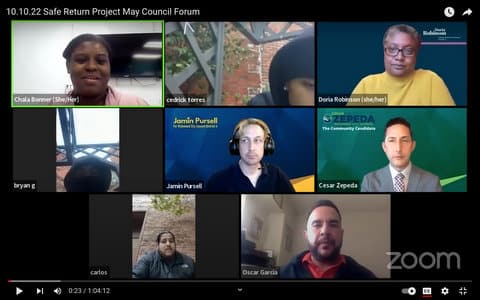 15 Oct

Teens Ask City Council Candidates About the Issues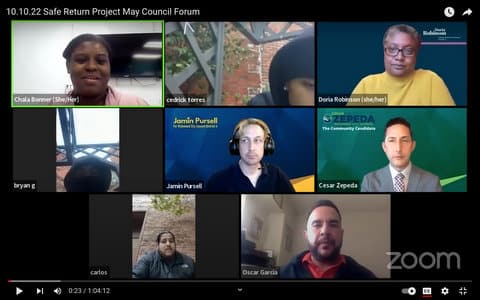 (Screenshot captured by Danielle Parenteau-Decker / Richmond Pulse)
By Jonathan Hale
In a youth-led forum hosted by the Safe Return Project, Richmond City Council candidates addressed public safety, food insecurity and quality of life in Richmond.
The Safe Return Project is a Richmond-based nonprofit organization that helps formerly incarcerated individuals reenter their communities and advocates for the end of mass incarceration. The questions were presented by 15-year-old Richmond High School student Cedrick Torres and a 16-year-old identified on Zoom as Bryan G.
Five candidates participated: Cesar Zepeda, running for District 2; Oscar Garcia and Doria Robinson for District 3; and Soheila Bana and Jamin Pursell for District 4. Andrew Butt and Cortland "Corky" Boozé, running for Districts 2 and 3, respectively, were not in attendance.
Because this was a youth-led event, "aggressive, demeaning, discriminatory or otherwise hurtful language or actions" would not be tolerated, said Safe Return's Civic Engagement Officer Chala Bronner. Any candidate or audience member who violated this could be asked to leave, she added.
Cedrick opened the forum by voicing concerns regarding public safety.
The candidates agreed that public safety issues negatively affect quality of life for Richmond residents. They also agreed on the importance of implementing community-based solutions.
Garcia, running to represent District 3, is an environmental engineer who graduated from UC Berkeley after growing up in Richmond's Iron Triangle. He emphasized the importance of community policing. Garcia added that some of his family members, including his brother and cousins, have been incarcerated.
"It's very important for me that we don't encourage mass incarceration here in Richmond," he said.
But he stressed that to improve public safety, police must be seen not as something to be feared but as city employees.
Dr. Soheila Bana is an engineer with a doctorate in electrical engineering and computer sciences from UC Berkeley who is running to represent District 4. She cited the importance of police to help Richmond residents evacuate during natural disasters like wildfires.
Robinson and Pursell, running for Districts 3 and 4, respectively, acknowledged worries about public safety but questioned whether the police were the answer. Both lauded the Office of Neighborhood Safety, a city department dedicated to stopping gun violence at a community level.
>>>Read: Public Safety, Measure U Debated by Richmond Mayoral Candidates
The candidates were asked what they would do to address housing and food insecurity concerns affecting Richmond youth. Many of the candidates' proposed solutions involved bringing jobs to the city, working to address food deserts, and more efficiently using tax revenue.
Cesar Zepeda, a consultant for the West County Wastewater District running to represent District 3, said that building more affordable housing would be necessary to tackle youth homelessness.
"We want to make sure we build affordable housing all over Richmond," he said.
He expressed support for Assembly Bill 2011, which would allow for the rezoning of commercial real estate for residential use.
Both Zepeda and Garcia endorsed Measure P, a proposal which would place a cap on rent increases. Bana said many people working in Richmond live elsewhere and said she supported efforts to keep teachers and other workers housed in Richmond.
Pursell, a small business owner and artist, said that Richmond should work to build housing by constructing on existing lots and avoiding sites where toxic waste is present.
"We should be building up and not out," he said.
In addition to housing, the candidates were asked about what they would do to take on the issue of youth food insecurity.
The candidates agreed on the importance of eliminating food deserts and providing healthy meals in schools and in the community. Robinson, who runs Urban Tilth and was appointed by Gov. Gavin Newsom to serve on the California State Food and Agriculture Commission, cited her experience with the issue in Richmond.
"For the past 20 years, most of my work has been built around building food security here in Richmond," she said.
The forum concluded with candidates' proposals to address deficiencies in resources for youth. The candidates expressed that creating jobs and using tax revenue would help Richmond youth access more resources. Garcia and Robinson indicated support for creating jobs in renewable energy, with Robinson suggesting that Richmond should push to disconnect itself from the petroleum industry.
Bana said she would work to provide mentorship opportunities for students in collaboration with UC Berkeley and other community stakeholders. Pursell and Zepeda said they would seek more state funding for Richmond residents.
The youth-led forum underscored the importance of building a better future for Richmond's young population. As the forum indicated, a key issue in this year's election is how candidates' decisions could shape an uncertain future for Richmond's youth.