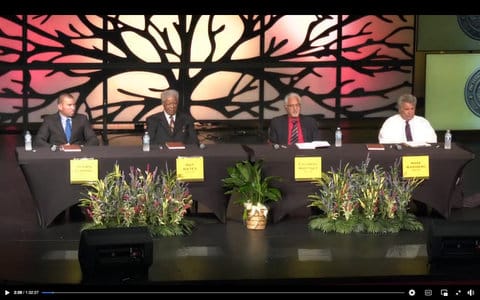 14 Oct

Public Safety, Measure U Debated by Richmond Mayoral Candidates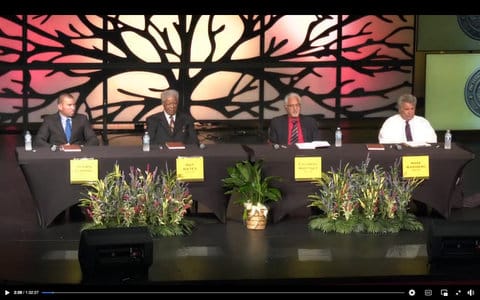 Richmond mayoral candidates, from left, Shawn Dunning, Nat Bates, Eduardo Martinez and Mark Wassberg engaged in a debate at Hilltop Community Church on Oct. 6. (Screenshot captured by Danielle Parenteau-Decker / Richmond Pulse)
By Jonathan Hale
Richmond mayoral candidates discussed a slate of pressing issues facing the city, including public safety, homelessness, Measure U and more at a candidates' forum held at Hilltop Community Church on Oct. 6.
Moderator Robert Rogers, district coordinator for Contra Costa Supervisor John Gioia, read a series of questions composed by the Fairmeade-Hilltop Neighborhood Council.
Public safety was an undercurrent flowing through the debate, with candidates offering a spectrum of views on the issue.
Mark Wassberg accused the Richmond Progressive Alliance of defunding the police and turning a blind eye to rising crime.
"They have some dumb idea they're going to have this task force to take the place of the police…If I'm mayor, you'll have the right to be safe under constitutional law, and I'll bring back the police," he said.
In a more moderate but similar response, City Council member and longtime Richmond politician Nat Bates suggested that elected officials should defer to police and criminal justice efforts in addressing public safety.
"Don't listen to these politicians," he said. "They don't know what they're talking about."
Candidate Shawn Dunning cited his experience as a conflict resolution consultant with Richmond Police as a reason to listen to his opinions on public safety. Like Bates and Wassberg, Dunning stressed the need for more officers.
Vice Mayor Eduardo Martinez disagreed with the perception that the police department is struggling. "This is a fallacy, saying the city police department is underfunded," he said.
Candidates were also asked if they would consider hiring incentives for police officers to mitigate ongoing recruitment struggles.
Dunning and Bates placed the blame for low staffing numbers on the city's leadership. Martinez noted that as a current member of the City Council, he could not discuss potential incentives because he was in contract negotiations. He did express support for the department. But Martinez also said, "any time we have a question, it's translated into not supporting".
Rogers provided candidates the chance to dispel any misconceptions about themselves that had surfaced during the campaign.
Bates used the opportunity to tout his experience and criticize — and compliment — his opponents. He referred to the 46-year-old Dunning as an "up-and-coming young man who needs experience" and addressed Martinez as a great friend with differing philosophical viewpoints.
Another recurring theme during the debate was the influence of the Richmond Progressive Alliance. Dunning commended the RPA's vocal activism but also expressed the importance of leaving room for other perspectives in city politics. While quick to counter any suspicion that he was a pro-Chevron candidate, Dunning said that to resolve conflicts, "you need to have all voices at the table."
Bates, a critic of the RPA, reiterated his view that the RPA is a "socialist" organization whose policy positions have brought about the decline of the city of Richmond.
Martinez, the only RPA member among the mayoral candidates, said he was proud to be a part of the coalition that has shaped city politics for the better part of a decade. But he said he hoped voters would view him as an individual with independent thoughts and opinions. He noted that he had previously voted against the RPA on some issues.
The candidates also discussed Hilltop Mall. Candidates expressed differing amounts of skepticism about Prologis, the multinational company that recently purchased the property. But the consensus was that development at the site would be inevitable.
All the candidates except Martinez voiced displeasure with Measure U, the gross receipts business tax approved by voters in 2020. Dunning suggested that voters were misled to support the measure. Bates and Wassberg restated earlier points criticizing the influence of the RPA. But Martinez defended Measure U, claiming that he was unfamiliar with any businesses that had reportedly left the city following the measure's passage. He also insisted that the largest tax raises only affected businesses that had not been paying much to begin with.
Martinez argued that Measure U is integral to fix quality of life issues in Richmond and hire more city employees. But Dunning countered that quality of life improvements would instead follow from an increase in enforcement against illegal activity such as sideshows. Bates and Wasserman blamed the city's problems on political squabbling.
Candidates were asked about Measure P, which will appear on the Nov. 8 ballot. If it passes, it would place a cap on rent increases. Martinez expressed support for both Measure P and Measure L, a similar measure establishing rent maximums for residential units. Bates expressed opposition to Measure P and accused it of being a political tool leveraged by Martinez and the RPA to gain renters' support in the polls. "I can smell a rat when I see it," he said.
The candidates uniformly lamented the state of homelessness in Richmond, offering different solutions. Dunning proposed addressing homelessness through a collaborative effort among community members. Bates, who voted against a recent decision to provide $200,000 to residents of the Rydin Road encampment to reestablish themselves after their eviction, argued that city politics was draining the city of the resources necessary to address its problems. Martinez, on the contrary, pointed to Rydin Road as an example of successful policy.
In closing statements, candidates attempted to dispel misconceptions about themselves. They touted their experience and laid out plans for the city's future. While the disagreements in their positions were notable, the candidates agreed on one thing: Richmond is changing, and whether that change will be for the better remains to be seen.