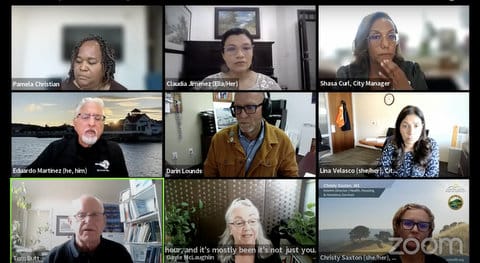 03 Aug

Rydin Road Homeless Encampment Set to Close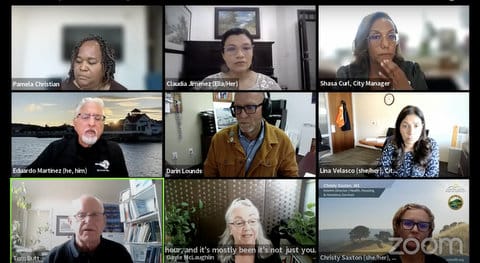 At a special meeting Monday, the Richmond City Council voted on closing the Rydin Road RV encampment. (Screenshot captured by Julia Métraux / Richmond Pulse)
By Julia Métraux
The Rydin Road homeless encampment will be closed by Sept. 30. City staff, the county and local organizations have been working with Rydin residents to find places where people can move.
The Richmond City Council voted 5-2 to approve the "sunset date" of the Rydin Road encampment and allocate over $200,000 to help residents access services and get back on their feet. Mayor Tom Butt and council member Nathaniel Bates voted against this motion at Monday's special meeting.
City Manager Shasa Curl said it is crucial to continue to work with people living on Rydin Road on what is best for them, especially with the history of criminalizing unhoused people in the United States.
"We are attempting to provide support services to all of our residents," Curl said. "There needs to be an acknowledgment that people historically haven't been treated equitably and that we're trying to do better now moving forward."
>>>Read: 'We Need to Now Build New Approaches to Homelessness'
Of the three options for the sunset date for Rydin Road, one was Aug. 31 and two were for Sept. 30. Council member Gayle McLaughlin said that Aug. 31 was not reasonable, and long-term solutions needed to be supported.
"Staying in shelters has its limits," McLaughlin said, citing rules like when people are allowed to be in a shelter. "When people are in situations of trauma that doesn't always work for them … they find themselves back on city streets."
Contra Costa Health Services also currently provides some support for unhoused people in the county, in addition to the city of Richmond. This includes emergency shelters and Coordinated Assessment Resource and Engagement centers. However, a lack of funding caused some partnerships with hotels to end.
"We have, over the course of the pandemic, five different hotels that we were able to open up, but the funding is now done with that," said Christy Saxton, interim county director of health, housing and homeless services.
Butt said he has been in conversations to have some Rydin Road residents move into Civic Center Motel. "If the city wants to put up the money … residents can move there," he said.
>>>Read: Helping Homeless People One Family at a Time
During public comment, Rydin Road residents and other people in Richmond spoke about what could be done best to help them transition into the next steps of their lives.
Jessi Taran said that some options provided to current Rydin Road residents have not been accommodating to what they need.
"I, personally, have two pit bulls and a partner, and the options offered to me are not sufficient for my needs," she said.
Supporting what Taran said, Rydin Road resident Amanda Jenkins said the city and others working to support people at Rydin Road need to be more open to people's different needs.
Jenkins did thank Butt for the potential motel option. "I actually heard more from you tonight than any other time, and I appreciate that," she said.
>>>Read: 'It's Scary': Unhoused Richmond Women on Life in the Pandemic
After public comment and before the vote, Curl said the city's finance department "does not have capacity to provide direct payments to unhoused residents or residents." She did say the city could look into the Civic Center Motel option.
"We want to sunset Rydin, but we do recognize that providing services to the unhoused is not a magic bullet," she said.
The City Council is on recess for the month of August.