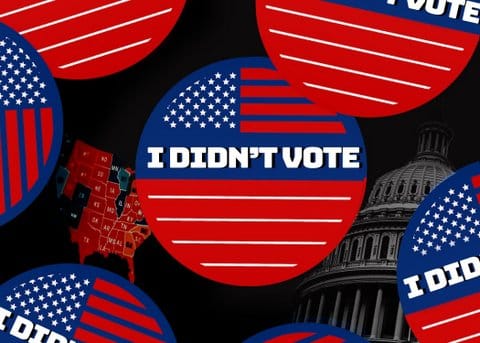 02 Dec

Big Business, Corruption and Blind Following Mar Voting for Some East Bay Residents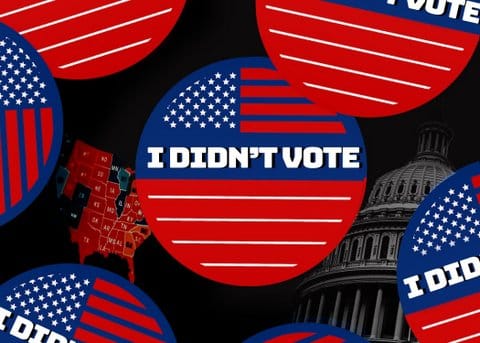 (Illustration by Denis Perez-Bravo / Richmond Pulse)
By Denis Perez-Bravo
For some, voting is a demonstration of democracy and the power all people have in their government.
Although for some East Bay residents, the voting process can be a facade.
A deep history of corrupt U.S. policies that oppressed Black and Brown people has deprived many of trust in today's government and, thus, voting.
Some conservative or moderate voters feel their ballots will not carry much weight in the left-leaning Bay Area.
"The U.S. government has all the control on what the impact [of voting] will be, regardless of my opinion," Richmond resident Zeonte Johnson, 21, said.
Johnson, who is Black and will become a father in the spring, believes that community empowerment is how he can make a better Richmond.
Johnson, a Literacy for Every Adult Program alumnus, was appointed to the first Richmond Fund for Children and Youth Oversight Board in 2019 and has served as its chairman.
The board helps direct funding for youth-serving organizations by developing policies, monitoring funds and holding accountability for said funds.
But when it comes to electing mayors, governors and other leaders, Johnson says it all leads back to a corrupt system that can't be reformed by voting in the right people.
Johnson is a Hebrew Israelite who has no political affiliation.
In 2018, he began learning about the belief system through online teachings on platforms like YouTube after watching videos about it that interested him. Johnson had no trust in government and with his newfound belief, he found even less reason to participate in politics.
"We are not supposed to vote for presidents or people. That is like giving them permission to rule over you," he said. "So whatever corruption that comes with them, you are OK with it because it is like you signed an oath."
Furthermore, Johnson considers his ancestors and how they would vote. And he thinks they wouldn't, especially not as Democrats or Republicans.
>>>Read: Obstacles Exclude Disadvantaged Voters from Democratic Process
He said his ancestors, who were once free, then enslaved, would rebel against the system that oppressed them. And he holds himself to that standard as well.
"As the person that I am now, I am reflecting my ancestors' point of view," he said.
Therefore, Johnson said he has never voted and has no plans to do so in the future.
Alameda resident Karena Acree-Paez, a Chicana woman, did not vote in the primaries and does not intend to vote in future elections as well.
"Elections in the U.S. only determine which party will serve the oligarchs better," she said.
Acree-Paez, 49, is a communist and a member of Anticonquista Collective, a self-described "anti-imperialist media collective," which publishes Latin American- and Caribbean-focused articles, books, podcasts, videos and social media posts dedicated to bringing awareness to capitalist-imperialist systems that have displaced those groups.
>>>Read: Experts Address Doubts About Election Process
"We live in a system that Sheldon Wolin calls 'inverted totalitarianism.' It is a system where corporate power has seized all of the levers of control," she said. Wolin, an American political theorist, was a professor of politics at Princeton University from 1973 to 1987.
"There is no way to vote against the interest of Goldman Sachs or Exxon-Mobil or Raytheon," Acree-Paez said.
Nonetheless, Acree-Paez voted up until the 2016 primaries. That election changed her view on voting, she said.
Controversy surrounded the Democratic National Committee after Hillary Clinton defeated Bernie Sanders in the 2016 primaries. Former interim DNC chair Donna Brazille claimed in the 2017 book "Hacks: The Inside Story of the Break-ins and Breakdowns That Put Donald Trump in the White House" that Clinton's campaign undermined the election's integrity to help her win.
Brazille later said she found "no evidence" of a rigged election, according to Politico, but Acree-Paez's mind was made up. She knew from then on she would not participate in the voting process again.
She also said she believes both major parties, Democratic and Republican, are essentially the same, partly because they have the same corporate donors.
"I suggest that people who believe there is a difference [in parties] start educating themselves on material facts, so they understand that both parties push the same agenda," Arcee-Paez said.
She accused the two parties of upholding the same white supremacist policies and values.
"For example, under Obama, we saw an assault on civil liberties that has outstripped what George W. Bush carried out," she said.
>>>Read: Attacks on Voting Rights Evoke Jim Crow Era
It should be noted, however, that the parties do take very different public stances on many issues.
Republicans say they promote personal freedoms and favor small government that doesn't interfere in people's lives, yet they have also worked to deprive people of their rights to vote or get an abortion, for example. They also vote to lower taxes and take money away from social programs while increasing the military budget.
Democratic policies and talking points, on the other hand, favor bigger government and are more likely to support the environment and the rights of women, immigrants and other minorities, for example.
But that doesn't mean Democrats and Republicans don't have controversial things in common.
Particularly in the 2020 election, both parties heavily relied on "dark money" — funds spent to influence politics by nonprofits that do not disclose their donors — for campaign financing, according to the New York Times.
In the 2020 race, the most politically active organizations more affiliated with the left spent more than $1.5 billion, while more conservative-leaning groups spent more than $900 million, the Times reported.
Rob Stein, a long-time Democratic donor adviser, said in the article that he worries the increase of anonymous donors and secret money will further decrease public trust in government and elections.
Miguel Gonzalez, a 22-year-old Richmond resident, said he noticed the exposure and money spent on campaign advertisements during this past midterm election.
Over the years, he has come to see many campaigns and the advertisements as propaganda both sides put out to attack the other.
"Republicans want you to see Democrats as extremist, and Democrats want you to see Republicans as extremist," he said.
Therefore, Gonzalez tries to cut out that noise and concentrate on policies he agrees with, whether they are promoted by Republicans or Democrats.
But this year, Gonzalez did not vote.
Though he has voted in the past, Gonzalez, who considers himself a moderate, said he saw no point this year.
"I wasn't motivated to vote due to my political views being in the minority," he said.
In the past, Gonzalez was enthusiastic about voting because he saw people in California on different online platforms expressing the same political beliefs he did. He thought this would carry over during voting cycles.
But one major example of how online rhetoric and official ballot counts differed was the Gavin Newsom recall election in 2021.
Gonzalez has grown tired of Newsom. He had voted for his recall and believed there would be a winning majority in the California population that agreed with him. But to his disappointment, Newsom survived the election.
And this year, while he would have liked to see Republican Brian Dahle overtake Newsom as governor of California, he did not hope for it or vote for it.
"Considering the majority of the population's ideology being blue, me voting in Contra Costa County is like trying to water the desert with a cup of water," Gonzalez said. "Being raised [in Richmond], we are taught to follow the left. Even in schools."
He worries that this has caused many Democratic policies to be praised instead of analyzed.
"And when you have a different view from the left, then you are considered racist," he said.
This midterm, his views would have leaned conservative and would have voted for Republican candidates, rendering his voice silent if he would have voted.
Gonzalez, a Contra Costa College administration of justice major, will not participate in many future elections, but he will vote in presidential elections, though he doesn't think it will make a difference.
"In the presidential election, even then, my vote doesn't matter because of the electoral college," Gonzalez said.