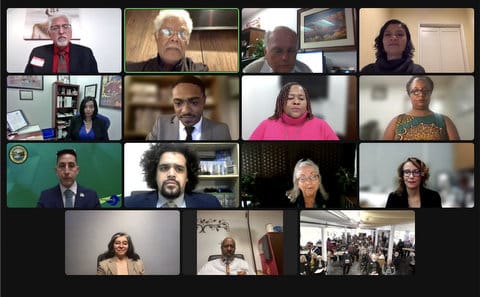 11 Jan

Richmond Swears In New Mayor and Council Members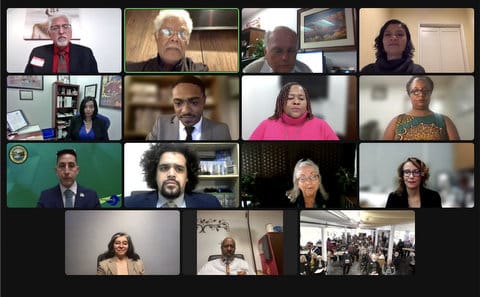 Richmond now has its first Latino mayor in Eduardo Martinez and openly gay council member in Cesar Zepeda. New council members Soheila Bana and Doria Robinson also took office Tuesday. (Screenshot captured by Julia Métraux / Richmond Pulse)
By Julia Métraux
The city of Richmond now has its first Latine mayor, as Eduardo Martinez took his oath of office Tuesday.
"I want to express my gratitude for being a part of Richmond," Martinez said. "I want to express my gratitude to the entire staff for all the work that you do [and] for the dedication you have to make our city the city that it is."
After Martinez was sworn into his new role, council member Claudia Jimenez said she looked forward to him leading city council meetings due to the respect he shows for others.
"You are the person who respects women," she said, "the person who respects every one of your colleagues."
The Richmond City Council also welcomed three new members, as Cesar Zepeda, Doria Robinson and Soheila Bana took their oaths of office. In other firsts, Zepeda is the first openly gay man to serve on Richmond City Council.
>>>Read: Richmond's LGBTQ Community Wants More Safe Spaces
After the council members were sworn in, their now peers on the city council spoke about the community involvement Zepeda, Robinson and Bana have already shown.
Council member Gayle McLaughlin said she appreciates Bana's work advocating for fire safety measures as president of West Contra Costa's Fire Safe Council.
"You and others really built something, a regional effort from the ground up," McLaughlin said. "I really appreciate your dedication to the community, and I know we'll continue to share that dedication together."
Council member Melvin Willis also spoke about the appreciation Richmond has for Robinson through efforts like Urban Tilth, saying when she spoke at an event, "you were like a rock star and the crowd was going crazy."
Willis also said he looks forward to working with Zepeda and having "great discussions and debate." He also said Zepeda's place on the council — he only won by three votes — shows that "every vote counts."
Bidding Adieu to Two Council Members
The terms for council members Nathaniel Bates and Demnlus Johnson also ended last night, and members of the council as well as staff thanked them for their commitment to the Richmond community. Now-former mayor Tom Butt did not attend the swearing-in ceremony.
Many people thanked Bates' for his 40-plus year history of public service in Richmond, which includes being mayor in addition to serving as a council member.
"Your personal dedication to the Richmond Housing Authority in collaboration with [United States Department of Housing and Urban Development] and the entire city council helped us transform RHA," city manager Shasa Curl said.
Bates said that this was an emotional night for him, and he "respects all of [his] colleagues" and for fellow outgoing council member Johnson, Bates said he "wish[es] him the very best of success."
In a statement read by clerk Pamela Christian, which Bates asked her to read due to his concern he may "break down," Bates found having "been invited to the White House Christmas celebration by then-President Barack and First Lady Michelle Obama, and personally meeting and communicating with them became the highlight of my political career."
Following Bates' speech, Johnson said he was grateful to have served on the city council.
"It's been a blessing to have been able to serve in a city that I was not only born and raised in, but so many of my family and friends call home," he said.
Willis said he appreciated working with Johnson, and he knows Johnson will still be an advocate for Black and Brown communities in Richmond.
"You're intelligent as hell," Willis said. "I'm gonna see you in public comment advocating for something that's really important for the community, and your voice is needed."
Following the adjournment of the swearing-in ceremony, Mayor Martinez and council members Zepeda, Robinson and Bana celebrated their new positions with members of the Richmond community at Bridge Storage Arts and Events.