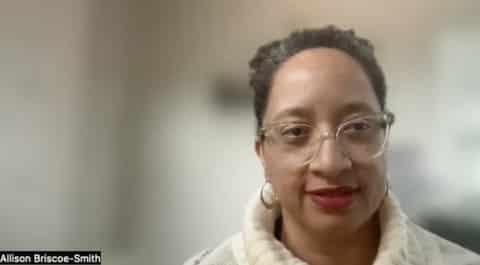 31 Mar

College Corps Program Rewards Students for Giving Back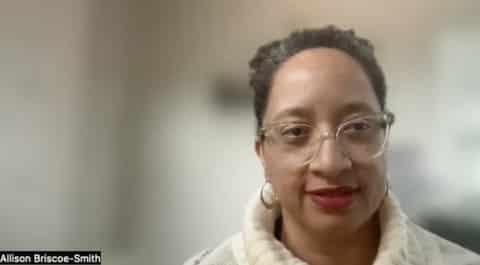 Psychologist Allison Briscoe-Smith said the community service opportunities provided by College Corps could counteract the many stressors young people face. (Screenshot captured by Natasha Kaye / Richmond Pulse)
By Natasha Kaye
Many students increasingly struggle to afford the high costs of higher education. One state program is helping ease that burden while promoting community service.
California College Corps offers students enrolled in California colleges up to $10,000 towards their education for their participation in community service placements. Currently, there are College Corps programs in over 40 universities across the state with a goal of supporting 12,000 undergraduate students over four years, according to a press release. Ethnic Media Services held a news briefing March 13 highlighting the positive impact College Corps has had in the nine months since its inception. 
A lack of financial support is one of the most pervasive barriers to higher education in the United States. College Corps lets students foster community engagement and make a difference while supplementing their incomes as they complete their degrees. 
While some students have always worked to help put themselves through school, that is not always an option.
Oftentimes, institutions of higher education adhere to rigid timelines that restrict the total amount of time students can spend in college, forcing them to choose between going to school or working, said Ishmael Pruitt, CEO of Project Optimism. 
"This timeline is not conducive for the students who are enrolled because it adds additional stress because they have to seek other funding opportunities and work in addition to all the other obstacles they are experiencing in their independent lives," said Pruitt. 
Additionally, the competitive job market frequently asks that new hires have some type of internship or volunteer experience in addition to their degrees, creating further barriers as the ability to devote time to unpaid experiences is made considerably harder for students who are financially unstable. 
Emilio Ruiz, a College Corp fellow at CSU Long Beach, said that had it not been for the supplemental income from the program, it would have been "realistically too difficult" for him to balance his mounting responsibilities. He thanked College Corps for allowing him the opportunity to work directly with students in his community through Ground Education, a nonprofit educating elementary students through hands-on gardening and outdoor experience, which he said improved his skills in childhood education and allowed him to graduate debt free. 
"Being a part of College Corps is an exciting and transformative experience," Ruiz said. "It can truly help bridge connections and open doors professionally especially since I wouldn't have known how to do it myself otherwise."
Ruiz's school is one California college reporting overwhelming success with the program. Beth Manke, a professor at CSU Long Beach and its College Corps director, said the program is considered an internship and even includes an internship course where students have instructors available to guide them through their experiences and learning processes. 
Josh Fryday, chief service officer for the state of California, said during the conference that nearly 80% of students in the program self-identify as students of color and over 70% receive the federal Pell Grant, which is only offered to students displaying "exceptional financial need," according to StudentAid.gov.
>>>Read: Student Debt Fuels Racial Wealth Gap, Advocates Say
Furthermore, the program supports over 500 "Dreamers," individuals who receive federal protection under the Deferred Action for Childhood Arrivals program. This is the first time a state service program has included Dreamers, according to Fryday, granting this group of marginalized students a rare opportunity to advance their educational and professional careers.
College Corps offers a diverse array of volunteer opportunities in fields such as early childhood education and environmental activism, as well as working on pathways to address food insecurities in local communities. 
Allison Briscoe-Smith, a child clinical psychologist, said reports of mental health challenges like anxiety and depression are on pace to surpass pre-pandemic levels for college-aged students in the nation. Feelings of hopelessness, purposelessness and isolation have troubled vast amounts of American youth and experts say service can act as an antidote to these sentiments. 
"We are faced with big challenges in the context of the waves of pandemics we have been experiencing," said Briscoe-Smith. "Whether that be COVID, experiences of racialized violence, or climate, we're very, very distressed, but we still have wonderful opportunities for hope and connection through service."
>>>Read: As Climate Change Worsens, 'We Have No Future'
The service placements are curated, not assigned randomly, allowing students more flexibility to choose a placement that best fits their interests and schedules. 
As colleges and universities return to in-person classes, students who have adapted to the structure of online learning are struggling to catch up to this reversion to the traditional style of teaching.
For first-generation college students unfamiliar with this terrain to begin with, these new adjustments have left them even further behind than their peers who have access to support systems to guide them through the rigors of higher academia.
Pruitt refers to this as "hidden curriculum" — knowledge not formally taught in schools but rather through family or community members who pass it along. For students who don't have access to this knowledge, College Corps serves as an excellent resource to learn the skills needed to thrive in school. 
"College corps is a win, win, win," said Fryday. 
Applications are open for the 2023-24 College Corps cohort. Deadlines vary by campus. Interested students can learn more about the program and apply at cacollegecorps.com.