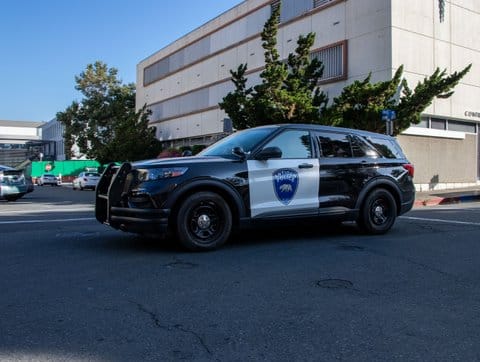 25 Aug

DA Concedes Antioch Officers' Racial Bias in Arrests of Murder Suspects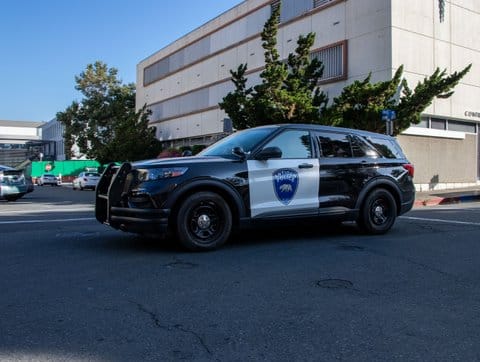 An Antioch police department vehicle cruises by A.F. Bray Courthouse in Martinez on July 21. A hearing was held at the court to determine whether APD officers violated the Racial Justice Act in arresting four Black suspects for murder in 2021. (Harika Maddala / Bay City News / Catchlight Local)
By Tony Hicks
Bay City News
The Contra Costa County District Attorney's Office this week filed a motion conceding that racial bias was involved when Antioch police arrested four men in 2021 for two alleged gang-related murders.
The motion was made public at a hearing Friday in Contra Costa County Superior Court in Martinez on a motion by attorneys for the four men, saying the arrests violated the California Racial Justice Act, which blocks prosecutors from seeking a conviction based on race, ethnicity or national origin.
Judge David Goldstein ruled the District Attorney's Office concession allowed the officers to avoid testifying at Friday's hearing.
Goldstein ruled the case will now move to the remediation portion of the motion, with the next hearing set for Sept. 8.
Goldstein denied defense attorney Carmela Caramagno's motion to hear more evidence Friday and to keep the officers under subpoena, but without prejudice — meaning she can subpoena them again for the next phase of the case.
Antioch police arrested 22-year-old Terryonn Pugh, 23-year-old Eric Windom, 24-year-old Keyshawn McGee and 22-year-old Trent Allen in 2021 for two alleged gang-related murders. All four of the Black defendants remain in custody and were present at Friday's hearing.
At least 10 Antioch and Pittsburg police officers were recently indicted by the U.S. Department of Justice on charges including improper use of weapons and a police dog on suspects, civil rights violations, falsifying records, wire fraud, obstruction of justice, turning off body cameras, selling steroids, and paying individuals to take college classes for officers.
The Contra Costa County District Attorney's Office is also charging officers from both cities with obstruction of justice and bribery for fixing traffic tickets for friends.
"It's my understanding that all the officers involved (in the 2021 arrests) have been indicted," Goldstein said.
Goldstein said it's also his understanding that during the remediation phase of the case, he can't outright dismiss the murder charges against the four men. He said he can dismiss enhancements and reduce charges but wants defense attorneys to prepare to argue how and why he can legally do so.
Goldstein also told prosecutor Jordan Sanders to be able to present enough evidence at the next hearing to convince him the full prosecution of the four men can move ahead, despite the District Attorney's Office concession of officers' bias. Sanders said it was a "Catch-22," because "by showing (the defense) that, I'm showing them what I can prove, or what I can't prove."
Nevertheless, Goldstein said, "You're going to want to convince me."
During the FBI and District Attorney's Office investigations, racist and homophobic text messages involving as many as 45 Antioch police officers were made public.
Defense attorneys for the four men at Friday's hearing have said some of their clients were mentioned in the text messages. The texts, which used racist and homophobic language and described violence against suspects, also included slurs and threats against former police chief Steven Ford and Antioch Mayor Lamar Thorpe, both of whom are African American.
Copyright © 2023 Bay City News, Inc. All rights reserved. Republication, rebroadcast or redistribution without the express written consent of Bay City News, Inc. is prohibited. Bay City News is a 24/7 news service covering the greater Bay Area.