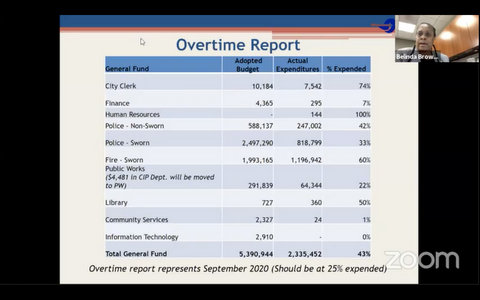 29 Oct

Richmond on Course to Exhaust Overtime Budget in January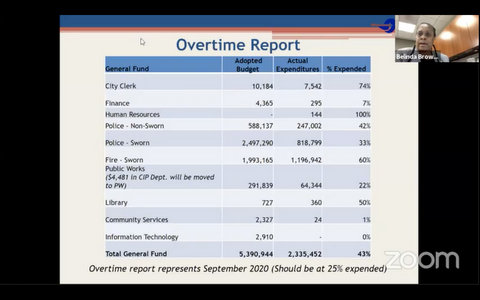 (Screenshot captured by Edward Booth / Richmond Pulse)
By Edward Booth
Richmond has burned through almost half of its $5.4 million overtime budget just three months into the new fiscal year.
This, and other information on the city's budget, was presented by the city's Finance Department to the Richmond City Council during the first quarterly budget report of the fiscal year, covering July through September.
About 43% of the city's $5.4 million overtime budget has been expended so far, though only 25% should be used in the first quarter of the fiscal year, said Richmond Finance Director Belinda Brown. The overtime budget will be exhausted by the middle of the fiscal year, in January 2021, if it continues to be spent at its current rate, according to the staff report.
In June, the City Council reduced the city's overtime budget by about $2 million to fill in the remainder of a $29.5 million deficit. City manager Laura Snideman said at the time she believed the city wouldn't be able to meet the reduction to overtime spending, especially because much of the deficit had been filled by freezing vacant positions.
The Richmond Police Department was a particular concern at the time because, according to Police Chief Bisa French, the department is understaffed. She said that means a certain amount of overtime spending is necessary to cover areas required by policy, such as maintaining a number of patrols throughout the city at all times. Additionally, many of the vacant positions frozen to balance the budget were from the police department.
Indeed, most overtime spending occurs in the police and fire departments, which account for about $5 million of all overtime spending, according to Brown. Non-sworn members of the police department have so far accounted for 42% of its roughly $600,000 non-sworn overtime budget. Sworn members have expended 33% of a roughly $2.5 million overtime budget, and sworn members of the Richmond Fire Department have used 60% of its roughly $2 million overtime budget.
Brown said the overtime spending for non-sworn members of the police is mainly because of a shortage in dispatchers. The overtime spending for sworn officers, she said, is mostly because of shift shortages and injury leave coverage. It's similar for the fire department, Brown said.
A few other departments, though budgeted for much less overtime than the police and fire departments, have also exceeded 25% of overtime use. The city clerk's office has reached about 74% of its overtime budget, Brown said, largely because of having to use its staff more than expected at council meetings.
Brown said the city has a current deficit of $5.5 million, down from $6 million earlier in October. About $2.5 million of the deficit is a result of the city budgeting for $3 million in concessions from city unions, and about $500,000 worth of concessions have been made, Brown said. The deficit increased by $2 million because of unfunded pension liabilities, and it increased another $1 million after the council voted to subsidize the Richmond Housing Authority in September.
City expenditures are trending as expected, said Markisha Guillory, budget administrator for Richmond. Guillory said the budget will continue to be closely monitored because of how tight it is.
Accounting manager Antonino Banuelos said the city has received $29 million in revenue for the first quarter, or about 18% of the budgeted amount. This is a normal percentage for the first quarter, he said, and revenues are trending as expected.
Property taxes, which account for about a forth of the city's projected revenue, weren't included in the revenue summary, Banulos said, because the city will receive 55% of its property tax revenue from Contra Costa County in December.
Sales tax, which accounts for another fourth of the city's revenue, only stands at about $3 million in the presentation, Banuelos said, because it only represents the July payment. Typically, he said, there's a two month lag in the payment received from the state in sales tax. Though sales tax is the revenue stream most affected by the COVID-19 pandemic and general economy, the city is currently on track to meet or surpass budgeted amounts, Banuelos said.
"Sales tax is the hardest hit revenue stream for the city of Richmond, but it was not as dire as we feared," Banuelos said.
Additionally, there was a large sale of a warehouse in September, Banuelos said, bringing in an estimated $4.5 million in transfer tax revenue. Assuming more modest revenue for the rest of the year, Banuelos said, the transfer tax is projected to exceed its budgeted amount by $3 million to $5 million.
"Again, this is very early in the year so many things can and will change," Banuelos said. "We'll have a much better idea where the general fund revenues will land at mid-year."
Council member Eduardo Martinez said the answer to the city's budget difficulties is to find sources of revenue — he recommended voters approve Measure U, a gross receipts tax which would raise an additional $3 million for the city, and Proposition 15, which would raise an estimated $6.5 to $11.5 billion each year for cities and other local government entities, according to the state Legislative Analyst's Office.
>>>Read: Crowd Marches to Chevron Refinery in Support of Prop. 15
Richmond resident Deborah Bayer also spoke in favor of Measure U and Prop. 15.
"It's clear we have to either raise revenue or cut services and nobody wants to cut services," Bayer said. "In fact, people come to the council all the time complaining that we need more services."
Brown said another budget update, which will include October, will be given to the council Dec 1. The presentation will also include an overtime report, information on updated financial policies, and a conversation around fiscal sustainability planning.