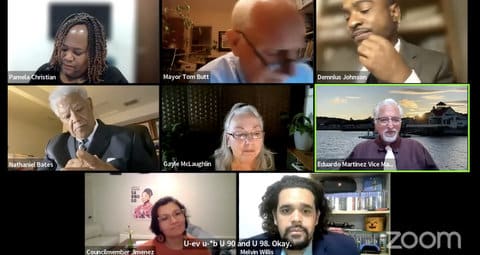 16 Nov

City Extends Contract With SOS! Richmond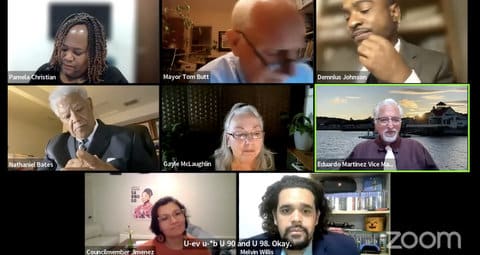 By Julia Métraux
The formal relationship between the city of Richmond and SOS! (Safe, Organized Spaces) Richmond will now continue until Jan. 31.
Founded by community organizer Daniel Barth, SOS! Richmond provides services to unhoused people such as access to showers and work opportunities like helping clean up Richmond communities. City staff recommended at Tuesday's City Council meeting that the city increase the contract with SOS! Richmond by $166,504.72, raising the overall contract between the two parties to $1,150,479.72.
"The current amendment to extend the contract for two months and increase funding is reflective of the additional work that SOS is providing and has been provided over the past several months," city of Richmond housing manager Jesus Morales said.
Council member Nathaniel Bates asked if city staff was looking into locations that could work as safe parking sites for people living in RVs and cars.
"What we've gotten is a lot of pushback from area neighbors, and so it's been difficult to get the council to approve a site and for us to establish a program," director of community development Lina Velasco said.
After questions from the council, during public comment, several community members said they benefited from SOS! Richmond, which gave them work opportunities that they may not have received otherwise.
"To get rid of SOS, you might as well throw in the towel," Amanda Jenkins said. "They give everybody a job."
O'Neill Fernandez, who is now a member of the outreach team at SOS! Richmond, spoke about how the organization personally helped him.
"'I've been homeless for years — not just me, my wife, and we are now sober, working," he said. "We're actively working right now. We have all made those steps into a better life."
The only person during public comment to speak negatively about SOS was Mark Wassberg, a 2022 mayoral candidate and fervent City Council critic. He said members of SOS! Richmond's team approached him, asking if he needed access to a shower.
"​​Mark, I'm so appreciative that you actually were asked to take a shower, because that shows that we are in the field doing the work that we're supposed to be doing," Barth said in response to Wassberg's comment.
The City Council discussed the growth of SOS! Richmond and other strategies to meet the needs of unhoused people in Richmond.
After comments from the public, council member Melvin Willis spoke about what he saw as an impressive transformation of the idea for SOS! Richmond come to fruition.
"Remember that just being a concept but fast forwarding to 2022, almost about five years later…hearing their testimony is actually a great thing," he said.
Vice Mayor Eduardo Martinez said he was in favor of amending the existing contract due to SOS! Richmond's track record in helping unhoused people in Richmond.
"If anyone can come up with something better, I would definitely love to hear it, and I'm sure that Daniel would love to hear it also," he said.
Mayor Tom Butt spoke against amending the contract, saying that funding used for SOS! Richmond could go to paying rent for unhoused people.
"We ought to be housing people, not providing jobs at minimum wage and showers," he said. "There has never provided any accountability for how this money is spent."
Council member Gayle McLaughlin disagreed with Butt's assertion that there has not been transparency in how funds are used.
"Reports come constantly from SOS," McLaughlin said. "We hear them from the Public Safety Task Force update."
The Richmond City Council voted to approve the extension of the contract and the release of funds 6-1, with Butt being the sole vote against it.