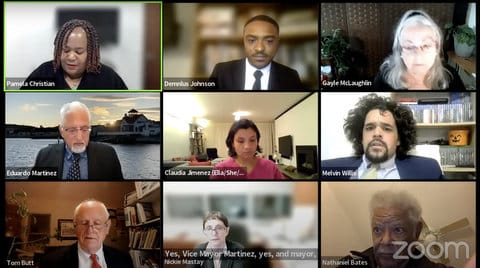 21 Dec

Richmond 'Leading the Way' As Transportation Needs Change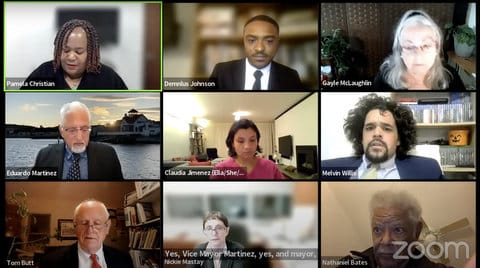 A Contra Costa transportation official told City Council on Tuesday that people are walking and biking more, and Richmond is tops in making space for both modes of travel. (Screenshot captured by Julia Métraux / Richmond Pulse)
By Julia Métraux
The Contra Costa Transportation Authority is looking into how it can meet residents' needs as COVID-19 has affected how people want to commute and travel.
"We're also seeing a lot of different modes or different changes in travel behavior," said CCTA's executive director Tim Haile in a presentation to the Richmond City Council on Tuesday. "For example, people are walking and biking more."
CCTA works to improve transit in Contra Costa County, which includes trying to reduce the environmental impact of some modes of transportation and improving BART stations. The funding for CCTA projects comes in part from county ballot measures, such as Measure C and Measure J. Measure J, which passed with 71% approval in 2004, provides $2.5 billion in funding to improve county and local transportation.
"Relative to the program dollars, as well as leveraging state and federal funds, we want to see how we can continue to provide what communities are looking for," Haile said.
CCTA has also surveyed county residents to see what transportation programs they are at least somewhat willing to try. Taking the BART, ferry, local bus and express bus are the most popular.
One program CCTA has been working on is Vision Zero, which "is essentially a commitment to zero fatalities on our roads," according to Haile. Contra Costa County adopted an action plan for Vision Zero on March 1. People can learn more about Vision Zero here.
"The city of Richmond has really been leading the way in Contra Costa County in providing dedicated space for walking and biking," Haile said.
>>>Read: Rich City Rides to Loan Free E-Bikes
The City Council has also taken steps this year to try and improve street safety. On June 21, the City Council voted to allocate $750,000 for street improvement plans in the city's operating budget.
"Council member [Gayle] McLaughlin and I met with the new public works directors and other staff members from different departments to look at street safety and how we can improve that," council member Claudia Jimenez said. Jimenez asked what opportunities there are for Richmond to receive funding from the CCTA.
While Haile said he could set up a meeting to discuss where Richmond could apply for funding, CCTA is not currently reviewing applications.
"We did a call for projects in that program about two or three years ago," Haile said, which was before Jimenez held her current position. "The next time we'll do a call for projects within that program will probably not be until the year 2025."
The CCTA is also working to improve infrastructure to improve electric cars. By 2035 in the state of California, 100% of new vehicles will have to be zero-emission vehicles, such as plug-in electric cars.
"We're installing electric vehicle chargers at multifamily homes as well as businesses and commercial areas," Haile said about work that is currently being done in Richmond.
There were no action items attached to CCTA's presentation, and no public speakers commented on it.
City of Richmond Services During the Holidays
 Because of how COVID-19 and other respiratory diseases are affecting Richmond residents, City Hall will not be completely closed over the December holidays.
"We thought it was important to continue to provide city services but in a way that does allow city staff to have slightly reduced members," Richmond city manager Shasa Curl said.
City services will resume regular operations Jan. 3.
"As always, [I} want to commend all of our essential workers: police, fire, community services, public works," Curl said.
This was Tom Butt's last Richmond City Council meeting, as he is reaching his term limit and heading into retirement. He will remain mayor until the next meeting, Jan. 10, when his replacement, Eduardo Martinez, will be sworn in, along with new council members Doria Robinson, Soheila Bana and the victor in the Andrew Butt-Cesar Zepeda recount.