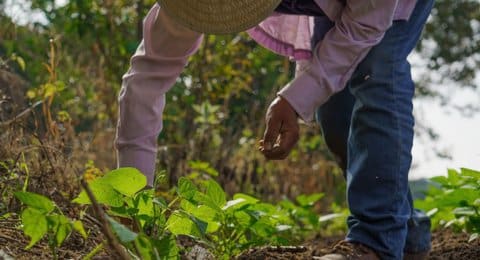 22 Dec

Farmworkers Still Exposed to Highest Infection Rates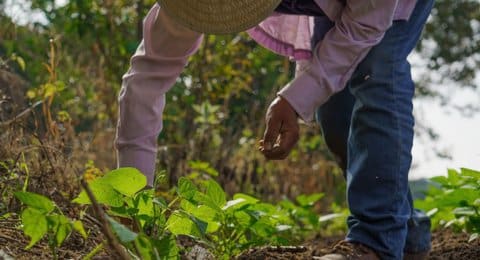 (Photo courtesy of Ethnic Media Services)
By Peter Schurmann, Ethnic Media Services
Drive almost anywhere in the farm fields of California and you will see blurred shapes on the horizon, men and women who produce the majority of the country's food. Although recognized as essential workers, their work has exposed and continues to expose them to the most severe impacts of the COVID-19 pandemic.
"We knew going to farmworkers was essential, but we never felt it until we struggled (with COVID-19) in 2020," said Dr. Ilan Shapiro, chief health correspondent and Medical Affairs Officer at AltaMed. "When most communities were at home, they were out there making sure we can feed our families. And they were getting exposed."
Shapiro joined a panel of speakers Wednesday during an online briefing organized by EMS and the California Department of Public Health's VaccinateAll58 Campaign looking at how the pandemic continues to impact agricultural workers in the state and the lessons learned in closing gaps to healthcare access for this population.
"Right now, our communities need information," Shapiro stressed.
State health leaders urge residents to stay up to date on their flu and COVID-19 vaccines, as they are the best defense to limit severe illness and death, particularly in heavily impacted communities. Californians are also encouraged to stay home when feeling ill in order to avoid close contact and protect those around you from illness as respiratory viruses continue to circulate. Wearing masks, covering coughs and sneezes and practicing hand washing are also instrumental in preventing the spread of
germs and illness.
Shapiro noted that during the pandemic, California made enormous strides in reaching farmworker communities around the state. "COVID-19 opened a lot of conversations," he said. The key now is to continue distributing this information to these groups in the languages and cultures they understand.
More than 800,000 people work on California's farms and packing facilities, the vast majority of whom are migrant laborers from Mexico and Central America. An estimated two-thirds are undocumented. Many come from Indigenous communities in Mexico where Spanish is often rudimentary or nonexistent.
All these factors contribute to the enormous challenges that exist in ensuring farmworkers have equitable access to healthcare. And as new variants emerge, and winter infection rates rise, Shapiro warns against the prevalence of misinformation and a diminishing sense of urgency around getting vaccinated.
"We have to make sure the gaps in these social determinants of health are closed," he said.
Updating the data on farmworker health
Noe Paramo is director of the Sustainable Rural Communities Project at the California Rural Legal Assistance Foundation, which has long advocated for expanded healthcare access for California's farmworkers.
His organization is currently working with UC Merced and state Sen. Anna Caballero, D-Merced, on updating farmworker health data, now over two decades old. That updated information, which will be made available early next year, will be used to shape forthcoming healthcare policy, including the proposed expansion of Medi-Cal for low-income people in the state between 26-49 years of age, regardless of immigration status.
>>>Read: 'Am I Really That Sick?' Healthcare Costs Weigh on Undocumented People
Paramo says it's likely that up to 40% of farmworkers will not be eligible, because their incomes will supersede the cut off for eligibility. "That is the objective of the study," he said, to highlight policy options that can narrow this looming gap in coverage.
CRLA also partnered with UC Davis' Órale Project, which found that more than half of farmworkers never received treatment even when infected with the virus. A 2020 UC Berkeley study also found that 58% of farmworkers still went to work even when showing symptoms.
There are a host of reasons for these figures, ranging from a lack of medical insurance to mistrust of the medical system and fears of lost wages or outing of their immigration status. But the dearth of medically trained professionals in rural parts of the state is also a contributing factor.
>>>Read: Mistrust and Misinformation Hold Back Black Vaccination Rates
Shapiro noted that under the stressors of the pandemic — long hours and risk factors associated with the work — many health care practitioners left the field, leaving especially rural areas facing a growing shortage.
A new law, set to take effect next year that will allow doctors in California to qualify for student debt forgiveness, aims to narrow that gap.
And while Paramo praised California for its success in expanding health care access to more and more of the population, he said the challenge now is to see whether "we implement it for the most marginalized."
That is especially the case among farmworkers, said Ed Kissam, a member of the National Center for Farmworker Health Advisory Committee to the Centers for Disease Control and Prevention
Our progress nationally is really worrisome
"Our progress nationally is really worrisome, with only 14% of eligible people having gotten the up-to-date vaccines," he said. That number falls to just 5-6% in California's agricultural communities, putting those with underlying health conditions, along with older people and pregnant women at greater risk.
Kissam commended the Test to Treat approach, now being implemented by the University of California targeting farmworker communities.
The idea is to test workers as soon as they show signs of infection, and then to connect them to treatment as soon as possible, including access to antiviral medicines like Paxlovid, which have been shown to reduce serious illness but must be administered within five days of showing symptoms.
Every household in the U.S. is eligible for another round of free test kits. Visit www.covid.gov/tests or call 1-800-232-0233 to order yours. You can also book a free test appointment, find a walk-in test clinic or buy a self-test kit from your local drugstore. Visit www.covid19.ca.gov to learn more.
What is clear is that the state has learned some valuable lessons from the pandemic, including the importance of working with promotoras to connect with vulnerable populations.
"There has been more willingness to work with CBOs that have a promotora model," as a result of the pandemic, said Arsenio López, executive director of Mixteco/Indigena Community Organizing Project in Ventura County. "They have been the champions for access and education for hard-to-reach populations."
One of López' key concerns is the issue of language access, as many Indigenous farmworkers speak little to no Spanish. Mental health also tops his list. "Many families lost loved ones, and there is an increase of anxiety, stress," he said.
>>>Read: For the Latinx, Mental Health Care in Spanish Is Hard to Find
And like Shapiro, López described a community where, even as infections again begin to climb, lingering distrust, fear and misinformation are combining with an increased sense of laxity around the virus.
"I am worried COVID-19 is becoming normalized," he said. "My worry is that there is this increase in positive cases while there is no sense of urgency as there was previously."