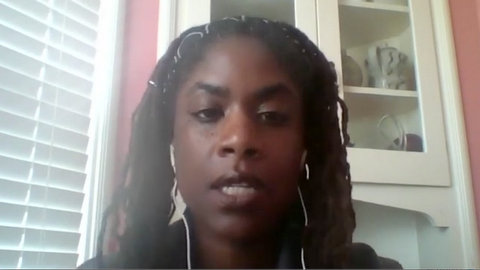 15 May

Community Leaders Address Coronavirus Concerns in Richmond Pulse Forum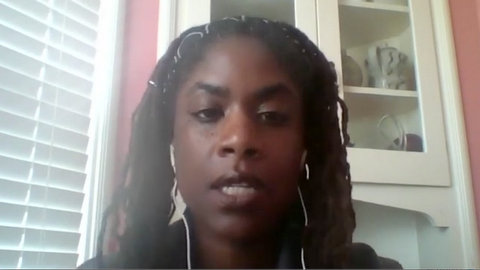 Above: Sheryl Lane, Executive Director of Building Blocks for Kids Collaborative speaks on the impact of the pandemic on families in Richmond.
By Edward Booth
Richmond Pulse held the first of several planned forums to discuss the impact the coronavirus pandemic has had on Richmond's most vulnerable residents.
Six community leaders talked Thursday about how families, children and seniors are handling the crisis, how the local immigrant community is managing, the state of local businesses, healthcare and how the city is approaching the crisis.
Malcolm Marshall, executive editor and publisher of Richmond Pulse, moderated the hourlong conversation along with Pulse reporter Michael J. Fitzgerald. The theme of the discussion was "the challenges we face in a post-pandemic Richmond."
"As you all know, Contra Costa and five other Bay Area counties have been sheltering in place for almost two months now," Marshall said. "While it's been necessary to curb the spread of the coronavirus, the shelter-in-place order and closures have had consequences for Richmond's small businesses and many of our residents, young and old."
The community leaders offered their insights into how local vulnerable communities are handling the crisis and how to build a path toward recovery.
The speakers were Rosa Menjivar, program coordinator of the Young Latina Future Leaders program at the Latina Center; Alicia Gallo, program and communications manager at Richmond Main Street; Sheryl Lane, executive director of Building Blocks for Kids Collaborative; Myrtle Braxton, chair of Richmond's Commission on Aging; Lucinda Bazile, deputy director of LifeLong Medical Care; and Genevieve Pastor-Cohen, emergency services manager for the city of Richmond.
A recurring topic was the intense stress being felt by local residents. Lane said many Richmond residents feel increasing financial stress from lack of employment and having problems paying rent or money to buy food as the shelter-in-place order continues. Many parents don't have jobs that are considered essential, she said, so they've been furloughed, laid off or had their hours decreased.
Parents who do have jobs are often teaching their children and working at the same time, dealing with the stress of figuring how to do both, Lane said. Those who work and have younger children have had difficulty figuring out child care. Many of the families BBK works with are not in the country legally, Lane said. In those cases, they lack access to important services and programs, such as the federal stimulus.
"What this pandemic is revealing is inequities that were already in place and how that inequity is increasing," she said.
Lane also addressed the emotional anxiety and stress people are experiencing. Everyone is living in the unknown, as no one who can say when or if the crisis will be over and what will happen next. The pivot to this uncertain way of life, has caused stress and is disrupting regular patterns, Lane said.
"We're all living in this place of 'we don't know,' " Lane said. "And so for us, even as an organization, to have to say 'we don't know' is challenging."
Lane said BBK is holding a monthly online program called "sanctuaries," which act as support groups for black and Latina women. BBK is also providing emotional well-being support to families.
Menjivar offered statistics collected by the Latina Center, based on interviews with local residents. Housing was a major concern among those surveyed, as well as food and mental health services. She said nearly 90% of those surveyed said they didn't or couldn't apply for financial aid.
"The majority of them don't have the opportunity to get financial support from the government," Menjivar said. "They feel very blessed that we help them with $100 or $300. They need more."
Gallo gave an update on how Richmond businesses are handling the pandemic. Many had to close down for the time being because they were deemed nonessential.
Gallo said Richmond Main Street quickly focused its efforts on supporting businesses within downtown and greater Richmond. The majority said they needed help accessing the financial resources offered through all levels of government and marketing their businesses online. Many don't have the staff or resources to maintain an online presence, Gallo said.
The businesses that have stayed open are seeing fewer customers. Gallo said they need access to currently available financial resources and a shift toward more grants and fewer loans. There is also a need for more flexible and accessible loan programs, language support for those programs, and for those programs to assist small businesses instead of large ones.
Gallo said that 34% of small businesses anticipate that they'll close in three to five months if the current rate of loss continues, and 17% more said they'd close after five months, according to a survey carried out by the national Main Street network.
All told, some 3.4 million small business and 35.7 million jobs could be affected.
"We need those [loan] programs to assist the businesses they're designed to assist, which are small microbusinesses that are actually the largest economic engine for our country," Gallo said.
Bazile gave an update on COVID-19 testing and the current state of healthcare within her organization, Lifelong Medical Care, a community health center. The first Lifelong health center was an over-60 center founded in 1967 by the Gray Panthers, an activist organization, the name of which springs from the Black Panthers.
"I'd like people to understand what the goal of community health centers is," Bazile said. "It's really about health equity, health justice, and universal access and care for everyone."
People can get tested for COVID-19 at Lifelong, but they need to make an appointment first by calling 510-981-4100, Bazile said. Lifelong is working on walk-up capabilities for testing, but it currently needs information prior to giving the test.
The organization has also pivoted to providing telehealth services. Bazile said people weren't coming out to be tested because of fear, so Lifelong was trying to educate people on when to get tested. Some of this fear was related to paying for the test, or not having insurance. Bazile said Lifelong staff helps people find programs to pay for the test.
Braxton, chair of the Richmond commission on aging, said seniors are a particularly vulnerable group. They are an at-risk population and COVID-19 is especially dangerous for them. They often are isolated and don't have access to the internet, Braxton said. Seniors have also lost access to social events with the pandemic, such as trips to parks and casinos.
The commission is in the process of digitizing its print newsletter to help with the flow of information. There are also programs to help seniors such as the state's "Great Plates Delivered," which brings restaurant meals to seniors at no charge. It can be contacted via the Contra Costa Helpline at 800-510-2020, with more info available on the state government page for the program.
Genevieve Pastor-Cohen, Richmond's emergency services manager, talked about the city's ongoing response to the pandemic. She said the city council passed a moratorium on evictions and rent increases while the shelter-in-place order lasts. The city provides coronavirus information on its website and at 510-620-6700.
Pastor-Cohen also discussed the Richmond Rapid Response Fund — a collaboration between the mayor's office, edfundwest, RYSE and other nonprofit organizations — which aims to raise $5 million for coronavirus relief. So far, Mayor Tom Butt's office has donated $25,000 to the fund, and the Hellman Foundation awarded the fund another $25,000, she said.
Pastor-Cohen said the important thing now is to increase testing so the county has an accurate picture of virus transmission, allowing the government to respond effectively. Bazile agreed with Pastor-Cohen, adding that when a vaccine is available, it should be offered for free to everyone.
Braxton also spoke in support of single-payer Medicare for all.
"This is so important, and I think we found this out during the pandemic," Braxton said. "Nobody should have to pay $800 for a prescription. That doesn't make sense. They don't do it in other countries, and we shouldn't be doing it here."
Menjivar said the Latina Center continues to provide support online, and Lane said BBK is as well. Gallo also said businesses in need should seek information from the Richmond Main Street website.