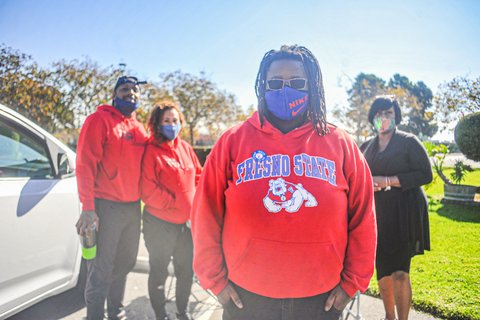 04 Nov

Richmond Voters Focus on Local Elections, Keep Eye on Presidency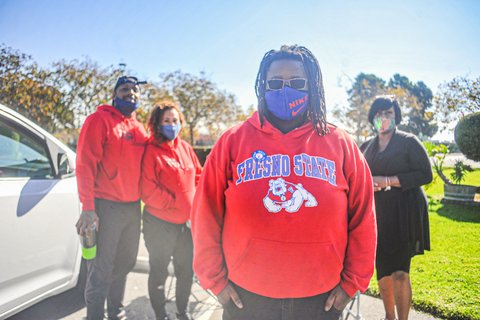 "We are Black; we have fought for the right to vote," said Hadassah Williams, 18. Behind her on Election Day are, from left, Jevon Doss, Lachele Doss and her mother, Rovanda Williams. (Denis Perez-Bravo / Richmond Pulse)
By Denis Perez-Bravo
Voting locally was the first priority for Wanda Oliver, 56, when she visited the Hilltop Community Church polling place to cast her ballot in Tuesday's election.
Richmond's financial struggles worry her because education institutions and businesses suffer in a deficit, she says,
"What is most important to me is the taxing," Oliver said. "If people knew how their local laws would affect them, they would come vote local."
For Oliver, voting also means stopping policies from becoming law that she believes would harm the community. She voted no on Measure U because it might hurt small businesses in Richmond, she said
Measure U would change the current business tax license from 0.06% based on the number of employees to 5% of gross receipts.
Richmond voters approved the measure by a large margin, with 79.92% voting yes.
"There are not a lot of businesses in Richmond, and if you are going to tax them higher, it is going to hurt them," Oliver said.
She has voted to increase taxes in the past to help local programs but hasn't seen a change she thinks is worth the burden of higher taxes on businesses.
"Prove to me that it will really help, but until then, no," she said.
Many Richmond voters cast their ballots early or came out to polling stations across the city. In the heart of Richmond's 23rd Street business district, Deeann Barnes, 56, dropped off her children's ballots along with her own at the Veterans Hall.
"I have voted every time since I was 18," she said.
For her, the local races have more meaning than the federal contests because she has worked directly with Melvin Willis, who ran for City Council, and Jovanka Beckles, who ran for AC Transit Board. She believes the two are engaged with the community and will continue helping people.
Semi-official election results released last night by Contra Costa County indicated that incumbent Willis won reelection, with all precincts reporting. Claudia Jimenez and Gayle McLaughlin appear to have won their City Council district races as well. All are members of the Richmond Progressive Alliance.
Beckles leads her race with just under 50% of the vote.
In the presidential election, Barnes voted for President Donald Trump. She does not agree with many of California's Democratic policies that she says don't help local communities. She worked at the Doctors Medical Center in San Pablo. It closed in 2015, which she blames on poor tax planning and poor state fiscal management.
In 2011, voters approved Measure J, a parcel tax meant to keep Doctors Medical Center open. Subsequent attempts to raise funding on the ballot, however, were rejected by voters. As of 2014, the center was running an $18 million deficit, according to the East Bay Times, which led hospital and county health officials to first stop accepting emergency ambulances and, ultimately, shut the facility down.
Because of situations like what happened to the hospital, Barnes trusts Trump to help revitalize the economy nationally. But locally, she hopes progressive thinkers can keep moving Richmond forward.
As of 5:30 p.m. Friday, former Vice President Joseph Biden led the electoral vote 264 to 214, according to the Associated Press. Other sources have Biden's electoral count at 253. That is because the AP, along with Fox News, called the race in Arizona in Biden's favor, while other outlets, including CNN and the New York Times, say it is still too close to call. To win the presidency, a candidate needs at least 270 electoral votes.
Barnes doesn't trust the popular vote because presidential elections in the United States are decided by the electoral college. In 2016, Trump lost the popular vote yet secured enough electoral votes to become president.
This year, Biden leads the popular vote by roughly 3% of the votes counted as of Friday at 5;30 p.m., according to the Associated Press.
Richmond resident Tyler Jackson, a 19-year-old first-time voter, dropped off his ballot Tuesday at El Cerrito City Hall. He voted for Biden because with a Democratic president, he said, Black voices can speak for the masses.
During Trump's time in office, reports show that hate crimes and domestic terrorism have risen as his administration pushed and promoted racist rhetoric to its base.
"Being half-African American, the way he handled [race] issues was not OK with me," Jackson said.
He said it felt "surreal" filling out his ballot and that he hoped people, especially youth, felt empowered and voted for change.
"I am hoping and praying for the best, but I know a lot of people around the country don't have the same ideals as we do in the Bay Area," he said.
First-time voter Hadassah Williams, 18, doesn't count on the federal election creating change in Richmond. For Williams, the most important issue she voted on was Proposition 15.
"Going to school in Richmond, we didn't get good textbooks, electronics and supplies," Williams said.
Prop. 15, which would raise some commerical property taxes to increase local funding, is losing by about 400,000 votes, according to the latest unofficial results released by the California Secretary of State.
Born and raised in Richmond, Williams wants to make the city a better place and says voting in local elections gives a voice to the community.
"We are Black; we have fought for the right to vote," Williams said.
Proposition 17, which was passed by California voters, was another key issue for Williams. The measure will allow otherwise eligible people convicted of felonies on parole to vote in future elections.
Williams said she supported Prop. 17 because it gives people access to democracy. She said she believes that no matter what people's past, they should have civil rights. Democracy should be promoted, not withheld, she added.
At first Williams was worried about this election, but as social movements began to grow, so did her hope.
"Seeing the movement behind George Floyd and Breonna Taylor, I started to see I can't be scared," Williams said. "I have to face it. It doesn't matter if people vote for Trump, I have to vote for myself."