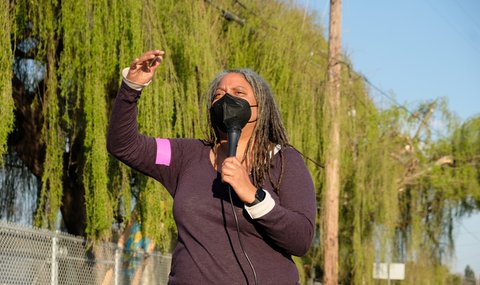 02 Feb

Q&A: Doria Robinson on Shared Responsibility for Richmond's Long-Term Future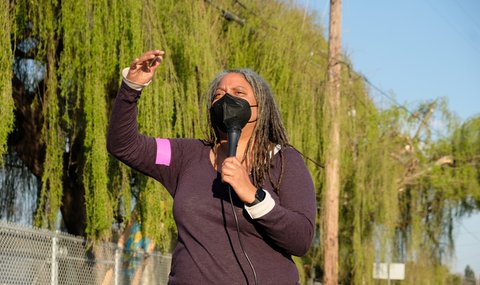 Doria Robinson speaking at the Feb. 18, 2022, protest of a planned development in North Richmond. (Myah Overstreet / Richmond Pulse file)
By Edgardo Cervano-Soto
Doria Robinson is a third-generation Richmond resident who grew up on the south side of the city. She is ingrained in Richmond's sustainability and urban agriculture movement as the executive director of Urban Tilth, a food systems nonprofit that has received national acclaim. After more than a decade leading Urban Tilth, Robinson mounted a campaign to represent her southside neighborhood home as the City Council member for District 3. She campaigned on five priorities: housing for all, community schools initiative, economic development, healthy neighborhoods, and climate justice and disaster preparedness. Robinson won her election with 39.62% of the vote, beating Oscar Garcia and Cortland "Corky" Boozé, according to official Contra Costa County election results. She began her term Jan. 10. Robinson spoke with the Pulse ahead of her inauguration to expand on her plans. This conversation has been lightly edited.
Richmond Pulse: Can you tell us more about the five priority projects that you're planning for District 3?
Doria Robinson: There's five areas. Within those, there will be specific projects each year. One is housing — housing for all. For me, that breaks out into, more explicitly, low-income housing, more opportunities for first-time homebuyers, and more comprehensive services for people who do not have a home at all. We have to stop turning our heads when we see encampments and treat it like a disaster. People are out in these enormous rains, braving it in tents.
>>>Read: Shelter from the Storm Not Enough for Homeless People
Being on the Greenway for all these years, you understand the depth of the mental health crisis that people are living in. We have to look at models across the country that offer transitional housing and humane, comprehensive resources. [We need] a better safety net so that people who were maybe evicted and had no family — we can catch them early and get them back on their feet before they get dropped down that rabbit hole and traumatized and it's even more difficult to pull them out of it because of the mental health issues that come with long-term homelessness. We need to develop a comprehensive plan for Richmond, for West County. I don't feel like we should wait for the county. I love working collaboratively, but we shouldn't wait for someone else to lead. We should put forth ideas. We should convene meetings. We should go after resources and research. The same thing with first-time home buyers and helping people who are renters who want to be home buyers and want to settle somewhere. I want to understand what already exists, what could exist, what should exist, and support policies that make sense.
RP: What economic development ideas do you have for District 3?
DR: There's big opportunities for economic development within District 3 in particular, with the Macdonald corridor. I'd love to convene meetings with small business owners along the economic corridors we have along Cutting Boulevard and Macdonald Avenue and see what their needs are, see what they feel like the pulse of the city is, and how support has been from the city thus far. Do they know about existing programs? Are they helpful? What do they need to help their businesses grow? That kind of thing. Again, it's research, checking on development projects. There's a few in motion. A few are stuck. A few have different issues. I want to understand what those issues are, so I can help get things unstuck and push back on things that maybe are not in the best interests of the community.
RP: As a council person, how will you approach Chevron?
DR: Chevron has a lot they could do. They could do everything they could possibly do to have the least impact on the people who live here. I think that there's a lot that they don't do, because it doesn't make it in their cost-benefit analysis — like fixing that pipe that burst and caused the 2012 fire. I assume there are many more pipes they could fix and upgrade to make things safer and healthier. They could think about what a petroleum-free future looks like. We're moving to a point where if we're going to really move towards saving the planet, then we have to phase out burning fossil fuels. We just have to. They could be moving on that frame and being transparent about what it would take to decommission the refinery and being a part of this plan to have an exit strategy that doesn't leave us with a toxic mess.
>>>Read: Richmond Council, Community Call for 'Just Transition' from Chevron
My hope, my wish would be that they would be responsible tenants and responsibly clean up before they exit. Being entrusted with the role of looking after a much longer-term vision for the people of Richmond, it's our responsibility to make sure that that happens. I feel like my role is to hold not just Chevron  — because there's a number of different polluting industries within Richmond — but to hold industries responsible for this longer-term understanding and vision of Richmond.
RP: What does your being on City Council mean for Urban Tilth?
DR: There's definitely some specific separations that we have to make. We've met with the city attorney and have a lot of clarity on when and how conflict of interest could arise, [and] if ever it does, that I'm clear and I recuse myself, and I'm not involved in any decisions that could create a conflict of interest. We've shifted our leadership structure within Urban Tilth. There are a number of directors who can lead without me being involved. Decisions can be made without me, without me being the last voice. We brought on new leaders. I have to be very clear and careful about conflicts of interest. I think that it means we won't apply for some grants that the city would normally be open to any nonprofits, just because of the trouble it could cause, even though we should have full right to apply for them. We probably won't apply for any of those over the next four years while I'm in office, and that's fine.
>>>Read: Urban Tilth Wants Stronger Working Relationship With the City
RP: The polarization in Richmond City Council politics is well-known, so what new opportunity comes with being a council member?
DR:  I feel like there's an opportunity to bridge some of the gaps. What I like to do is focus on projects. What are people concerned about? What do they need, and how do we get it to them? If we can listen to everyone's concerns and push forward on those concerns and make some progress and make sure people know we're making progress, then you can get out of your silo a bit. Because people are based on their interests, right? A lot of the silo has come from people not being heard, not being listened to. And so I feel like it's our jobs as new council people, new mayor, to make sure that we are not moving without listening and hearing people, and bringing forward their concerns first and foremost. And not moving with our own abstract ideals. That's the opportunity in this particular council, in these four years, that's our opportunity: to be listeners and to be truly representatives and champions of people's needs.