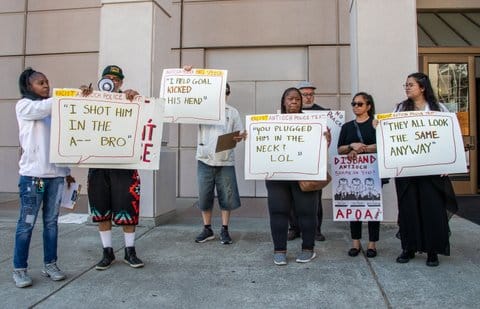 19 Aug

Ten Antioch and Pittsburg Police Officers Indicted for Civil Rights Violations, Other Charges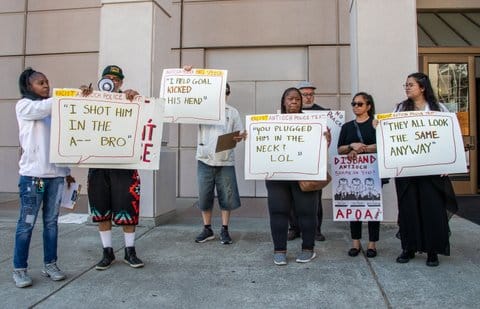 From right, Bella Quinto Collins and Cassandra Quinto-Collins, the sister and the mother of Angelo Quinto, and members of Reimagine Antioch protest against Antioch police officers involved in the racist text scandal in the department during a hearing involving the officers at A.F. Bray Courthouse in Martinez on July 21. (Harika Maddala / Bay City News / Catchlight Local)
By Tony Hicks
Bay City News
Ten former and suspended Antioch and Pittsburg police officers have been indicted for civil rights violations and other charges, the U.S. Attorney's Office for the Northern District of California announced Thursday.
The indictments accuse police of falsifying records, wire fraud, civil rights violations, obstruction of justice, improper use of weapons and K9 dogs on suspects, turning off body cams, selling steroids, and paying individuals to take college classes for officers.
The FBI arrested nine of the 10 suspects in the Bay Area and as far away as Texas and Hawaii on Thursday morning, U.S. Attorney Ismail Ramsey said, during a press conference at the Phillip Burton Federal Building in San Francisco.
"I want to emphasize that every defendant is presumed innocent, unless and until proven guilty beyond a reasonable doubt in a court of law," Ramsey said. "The allegations and the indictments are just that: allegations. No defendant is charged with all the conduct in all the indictments."
Four indictments were unsealed Thursday afternoon related to a joint two-year investigation by the FBI and the Contra Costa County District Attorney's Office.
The first indictment related to six officers conspiring to defraud the Antioch and Pittsburg police departments by paying 20 people to take college courses for them, after which the officers took credit. Their police departments reimbursed officers for the cost of allegedly taking the classes and handed out promotions at least partially based on passing the classes.
The second indictment of two officers was for distribution of anabolic steroids, then destroying evidence of doing so.
The third indictment applied to one officer for obstruction; specifically destroying and falsifying records to interfere and obstruct with an investigation and a civil rights violation by taking and destroying a suspect's phone with possible evidence on it. The officer was responsible for monitoring a wiretap, and allegedly tipped off the subject of the wiretap and erasing the phone records and falsified records. He also allegedly destroyed a suspect's phone, which may have contained evidence.
The fourth indictment — the "deprivation of rights indictment," Ramsey said — was 29 pages long, detailing three Antioch officers' improper deployment of a K9 and weapons "in order to harm individuals in and around Antioch," Ramsey said.
>>>Read: Council Hears From Acting Richmond Police Chief on Staffing and Dog Bites
The indictment also accused officers of boasting about illegal uses of force in text messages between one another, including sharing photos of their victims and their injuries.
Ramsey said the officers "even collected, as mementos, spent ammunition from their attacks on the people of Antioch."
Ramsey said the officers thought they were above the law and "had no interest in de-escalation or other proper law enforcement tactics to avoid violence."
He also said they tried to eradicate evidence of their misdeeds by refusing to properly wear body-worn cameras and submit truthful reports.
"Police officers take an oath. That oath is a solemn promise to defend and follow the Constitution of the United States, as well as federal and state laws," Ramsey said. "Police officers promise to enforce laws, to protect the public and to protect the rights of the accused. That's the job. Indictments unsealed today paint a picture of officers who have violated that oath. When this happens, the damage done to the public trust cannot easily be calculated."
Ramsey said the cases will likely be tried in Oakland and no hearings have been scheduled yet.
Antioch Mayor Lamar Thorpe said earlier Thursday that "today is a dark day in our city's history, as people trusted to uphold the law, allegedly breached that trust and were arrested by the FBI," Thorpe said, in a statement. "As our city absorbs this tragic news, we must come together as one. Today's actions are the beginning of the end of a long and arduous process."
The state attorney general's office opened its own probe earlier this year.
Law enforcement officials have said as many as 45 Antioch officers were involved in text message chains, using racial slurs and describing violence against suspects, and going as far as threatening Thorpe, who is African American. The N-word was used at least a dozen times, as were terms describing African Americans as "gorillas."
'Fire Everyone Who Is Racist': Black Antioch Residents, Mayor React to Police Texting Scandal
The texts also described recently retired police chief Steven Ford, who is African American, in racially derogatory terms. They also contained homophobic slurs and suggested violence against unhoused people.
Some of the defendants named in the texts, including those convicted and accused of murder, have already had their cases overturned in court or are challenging their arrests as racially motivated and violations of the California Racial Justice Act.
>>>Read: DA Drops Felony Charges Over Investigators' Role in Racist Texts
Civil rights attorneys John Burris and Ben Nisenbaum have filed two lawsuits so far, involving 13 plaintiffs accusing Antioch police of civil rights violations, among other allegations. The lawyers have said they've interviewed another "140 people who claim they also have been subject of multiple constitutional violations by Antioch police officers for years," they said in a statement earlier this month.
None of the indicted officers names were released Thursday. But Lee Housekeeper, who represents Burris, said after Thursday's announcement that three of the officers indicted are also defendants in Burris' civil rights lawsuits: Morteza Amiri, Eric Rombough and Timothy Williams.
Thorpe said Thursday the arrests are demonstrative of issues that have plagued the Antioch Police Department for decades.
"Seeking to reform the Antioch Police Department is not anti-police, it is pro our residents, and pro-officers that have served and continue to serve with honor," Thorpe said.
Copyright © 2023 Bay City News, Inc. All rights reserved. Republication, rebroadcast or redistribution without the express written consent of Bay City News, Inc. is prohibited. Bay City News is a 24/7 news service covering the greater Bay Area.